Student of the Week Certificate Template - Blue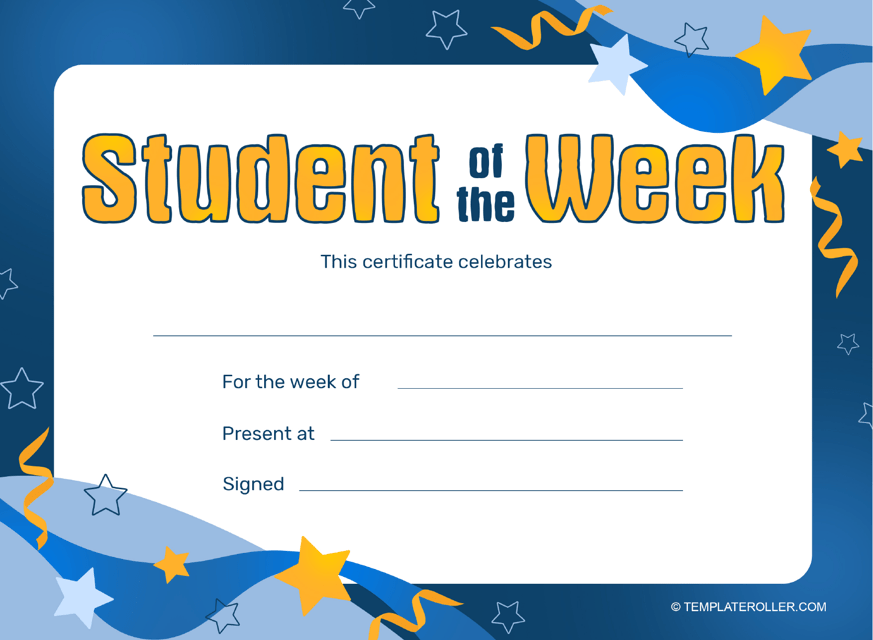 Fill PDF Online
Fill out online for free
without registration or credit card
Student of the Week Certificate: What Is It?
A Student of the Week Certificate refers to an informal document completed and decorated to single out an outstanding academic performance of a student, their exemplary behavior, and their contribution to extracurricular activities over the course of the week.
Alternate Name:
Student of the Week Award.
Whether you want to encourage young kids to pay more attention to their studies by celebrating their individual achievements or you teach high school students whose accomplishments deserve to be regularly recognized, it is a helpful tool for a teacher or school administrator that believes in the significance of individual awards - and every four weeks you may review the performance of your students and fill out a Student of the Month Certificate Template for the one that excelled the most. Besides, if you are in charge of a training course that children and adults may attend, it would be a nice gesture to raise their mood by gifting them this award - it will motivate them to continue with their training in the future.
You can find a Student of the Week Certificate template through the link below.
Student of the Week Certificate: How to Make?
Here is how you should prepare a Student of the Week Award:
Definitely print out the certificate - use thick paper or carton to make sure it is durable enough. You may design several documents at once and have them ready to be able to reward your most successful students at the end of the week.
The decorative elements you add to the award usually depend on the age of the student and the type of education they receive - naturally, elementary school kids would appreciate funny patterns and stickers while a certificate for a teenager may look more formal; if you are celebrating accomplishments in a particular subject or your school has a certain specialization, insert pictures and symbols related to it - for instance, a student that did well in a painting class would be happy to receive a certificate with colorful drawings of brushes, frames, paintings, and easels.
Usually, an award like this contains a few details - write down the words "Student of the Week" on top of the certificate, indicate the name of the student, specify their achievement, include your own name, and record the date the document was presented.
Consider making two copies of the certificate - give one to a student to take home and frame if they wish and hang another in the classroom or a common area of the school (depending on whether you are choosing the best student from the class or the entire institution). This extra recognition will surely boost the self-esteem of the accomplished student motivating them to carry on like this in the future and inspire their peers to follow in their steps.
---
Haven't found the template you're looking for? Take a look at the related templates below:
Download Student of the Week Certificate Template - Blue