Student of the Month Certificate Template - Green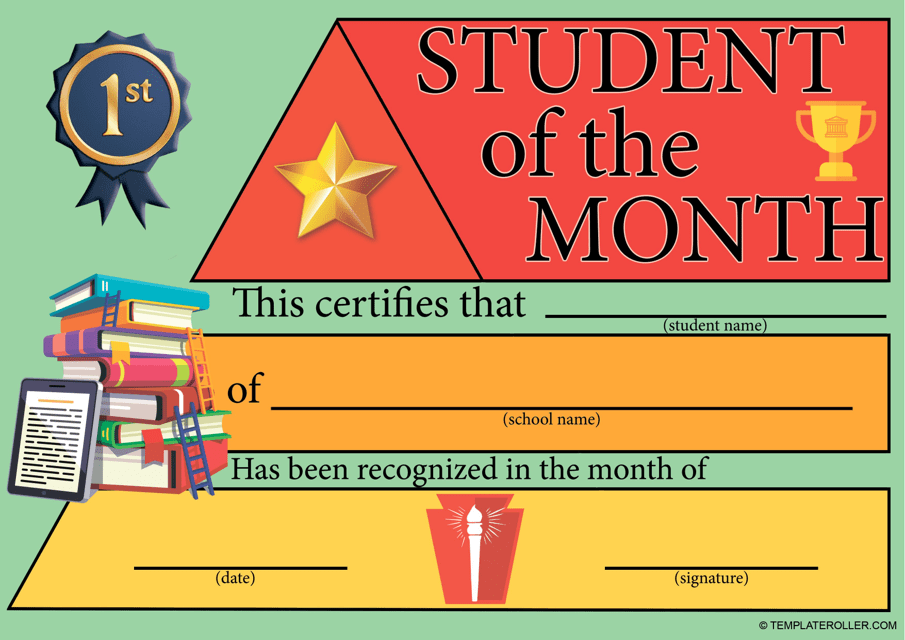 Fill PDF Online
Fill out online for free
without registration or credit card
Student of the Month Certificate: What Is It?
A Student of the Month Certificate is presented to the Student of the Month, a student that has done something or achieved something worthy of recognition by their teacher and fellow peers. A teacher may want to pay special attention to a particular student and put them in the spotlight. It is a superb tool for the community of the class and it can also be used as a way to motivate students and get them to work harder, striving to make new achievements.
Alternate Name:
Student of the Month Award.
Incorporating a Student of the Month in the classroom will ultimately increase the confidence and self-esteem of all of the involved students. They will strive to show themselves and reach new heights, something that the teacher will take notice of. This is important because the teacher should always justify the reason as to why they picked a particular student. They should seek to outline all of the positive things that the student has done and it may also be a good idea to get peers to contribute to this discussion too. You may also choose to have a Student of the Week Certificate Template where you can recognize students on a weekly basis, rather than monthly. This is recommended for younger learners to give teachers the opportunity to rotate and select each child at least once.
A Student of the Month Certificate template can be downloaded by clicking the link below.
How to Be Student of the Month?
To become Student of the Month you must excel in something. Perhaps it can be a change of attitude or an improvement of some sort. Each teacher may have their own reasons and criteria for selecting a Student of the Month but if you want to increase your chances, read our suggestions below:
As mentioned previously, if you have demonstrated a positive attitude or an improved attitude towards learning or your peers this may well be the reason that you are selected as Student of the Month;
If you work hard and put all your effort into a task, a teacher will undoubtedly notice this and your hard efforts may be rewarded;
If your attendance has been slacking but you have managed to pull it back or if you have had perfect attendance, a teacher may recognize this. We all know the importance and correlation between attendance percentage and academic results, hence why a teacher may consider this an important factor;
If a student is well-behaved or has shown a significant improvement in their behavior, this could also be a reason for receiving a nomination;
Maybe a student has done something small that has really touched the teacher. Maybe they were really kind to someone, managed to help their peers or have been really fair and honest. These are all traits that could see a student with the award.
Remember to be yourself and work hard - this will guarantee you success and recognition.
---
Haven't found the template you're looking for? Take a look at the related templates below:
Download Student of the Month Certificate Template - Green