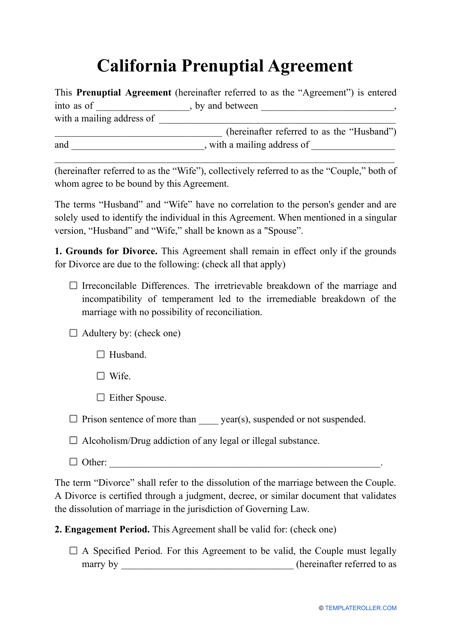 Fill PDF Online
Fill out online for free
without registration or credit card
What Is a Prenuptial Agreement in California?
A California Prenuptial Agreement is a formal acknowledgment of a person's assets and financial obligations which is discussed and explained fairly before the marriage between two individuals. In the event of a breakup due to a divorce or death of either partner, the agreement will typically seek to safeguard against an unjust division of assets such as properties, cash or vehicles.
Alternate Names:
California Prenup Agreement;
California Premarital Agreement.
The two individuals need to willingly sign into the Prenuptial Agreement in California and it is recommended that both partners should hire their own neutral legal assistant to aid them through the process and guarantee authenticity and fairness. One of the main criteria for this is for both partners to reveal all of personal wealth and other assets that they possess to the other partner. If this is not done, the agreement may well not be accepted in court.
Both individuals need to ensure that they sign the document for it to become effective.
A California Prenuptial Agreement template can be downloaded by clicking the link below.
How to Get a Prenuptial Agreement in California?
There are certain laws which outline California Prenuptial Agreement requirements and they must be carefully abided by in order for the agreement to be considered valid. It is easy to make a simple mistake and have the agreement invalidated, therefore we have compiled a list of all the information that you could possibly require to avoid invalidation:
Once a couple is married, a prenup becomes binding - not prior to this. Nevertheless, for a prenuptial agreement to be enforceable in California, the couple must prove that they completely comprehend the terms of the agreement and have had enough time to speak with a lawyer, along with a minimum of seven days between the agreement's introduction and its signature;
Additionally, the legitimacy can only be preserved if each spouse had complete awareness of their spouse's financial holdings, obligations, and estates;
In California, all prenups (and, typically, all agreements) must be morally justifiable just line in the majority of other states. This means that if a judge has reason to believe that the arrangement will make one person reliant on government aid, the contract may be declared unenforceable;
A prenuptial agreement must not have been entered into under pressure, intimidation, or by a person who lacked cognitive acuity for it to continue to be valid;
If a person is giving up their rights to access the finances of the spouse, that person should have a legal representative present when they sign the agreement for that clause to be considered valid.
How to File a Prenuptial Agreement in California?
The Prenuptial Agreement should always be created by a family lawyer, and when one partner hires an attorney do so, the other partner must hire a different one to carefully evaluate the arrangement. After this, both spouses should consult their own attorneys and subsequently accept the prenup. Naturally, since the pair has not yet gotten married, the arrangement would not take effect right away. When a pair marries, the Prenuptial Agreement they signed will become legally binding.
In California, a Prenuptial Agreement often includes a one-off price of approximately two thousand and five hundred dollars. But, a lawyer may bill anywhere from two thousand dollars all the way up to six thousand dollars. The duration and difficulty of the arrangement, your lawyer's fee, and the ease of the talks between partners will all have an impact on how much your arrangement will cost overall.
Prenuptial agreements do not automatically expire, so they are enforceable for the length of the relationship unless the contract specifies differently. Nonetheless, some spouses decide to include a termination clause which states that the agreement will end on a special occasion (such as a particular anniversary) or on a specific date.
Consult these details with your lawyer as ultimately they are the party responsible for drafting, checking and filing the document in agreement with local legislation. In addition, regardless of the California Prenuptial Agreement law concerning signing the document, we would highly recommend the presence of a notary public during the signing process in order to avoid future claims of manipulation.
---
Still looking for a particular template? Take a look at the related templates below: