Christmas Card List Template - Green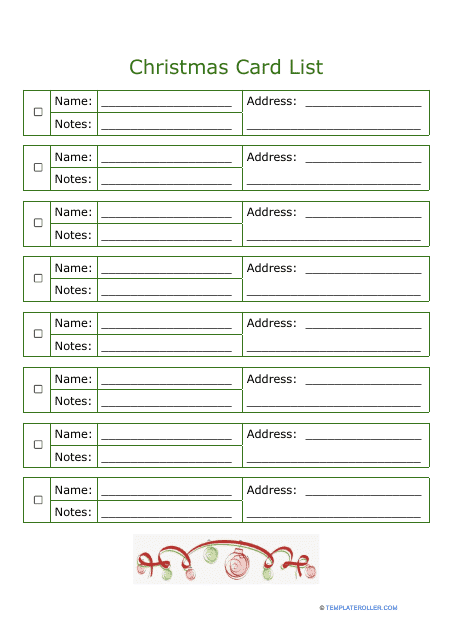 Christmas Card List: What Is It?
A Christmas Card List is an informal spreadsheet created to record the names and contact information of the people that will receive greeting cards on the occasion of Christmas and New Year.
Alternate Names:
Christmas Card Addresses List;
Christmas Card Mailing List.
It is a tradition to send decorative postcards, often with Christmas-themed photos of the family, to the inner circle in early or mid-December - and you can do the same for your customers, employees, and associates if you run a company that prides itself on maintaining a strong relationship with people that contribute to your business. Besides, it is a simple way to ensure you stay in touch with every person that matters to you in case you are hosting a Christmas party they cannot attend - prepare weeks in advance, and you will be confident your best wishes will reach the addressee by the end of December.
A Christmas Card List template can be found through the link below.
How to Make a Christmas Card List?
Figure out the best way to keep a Christmas Card List whether you are keeping track of your personal connections or congratulating numerous people on behalf of your business:
Draw a table to include the details of all the addressees. The following columns are usually enough: the name of the recipient, their address or e-mail, the date the card was sent, and the confirmation of the latter action. You may check the box or cross off the entire row off the table if you are making a handwritten list once the message is dispatched.
It is possible to divide the spreadsheet into several parts if some recipients will get a postcard via traditional mail and others can be congratulated by e-mail - more than one family member or employee can handle the mailing. Custom postcards you can purchase in bulk and Christmas eCards alike will be a welcome gesture as long as the message feels personal and warm.
Add a column for remarks and comments so that you do not forget to add a personal touch to your messages - for instance, if the future recipient of the card graduated from the university this year, refer to this milestone in your message.
Note that companies should take an advantage of the festive season to strengthen the bonds with their business partners and loyal clients - draft a Christmas Card Mailing List by transferring information from the address book you are using or synchronizing spreadsheets to extract the contact details you need. To save time, opt for mass e-mails to communicate directly with thousands of individuals and entities.
Make sure you respond to people that took the time to congratulate you on the upcoming holidays. To do that, you may complete a separate Christmas Card List that will contain the details of relatives, friends, and coworkers that reached out to you - this way, you will not forget to call or mail them with words of appreciation.
---
Still looking for a particular template? Take a look at the related templates below:
Download Christmas Card List Template - Green