DA Form 3433-2 Supplemental-A Employment Application Form for Child-Youth Services Positions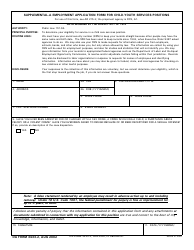 What Is DA Form 3433-2?
DA Form 3433-2 also known as the Supplemental-A Employment Application Form for Child-Youth Services Positions is a document used by soldiers applying to NAF positions requiring child care. The DA 3433-2 must accompany forms DA 3433 and DA 3433-1 in all employment applications for child- and youth care-related jobs.
The newest version of the Department of the Army-issued form was released in August 2002 with all previous editions now obsolete. An up-to-date version is available for download below.
The DA 3433-2 Form - commonly mistaken for DD Form 3433-2 - is used for determining if the applicant is affected any legal restrictions or has history of law violations. The information provided by the form undergoes a thorough background check by the Quality Review and Advisory Panel (QRAP).
Filing is voluntary. However, refusing to file the form will lead to the applicant being rejected from certain jobs and will decrease the overall chance of hiring.
SUPPLEMENTAL-A EMPLOYMENT APPLICATION FORM FOR CHILD-YOUTH SERVICES POSITIONS
For use of this form, see AR 215-3; the proponent agency is DCS, G1.
DATA REQUIRED BY THE PRIVACY ACT OF 1974
Public Law 101-64.
AUTHORITY:
PRINCIPAL PURPOSE:
To determine your eligibility for service in a child care services position.
ROUTINE USES:
We must have your social security number (SSN) to keep your records straight because other people may have the
same name and birth date. The SSN has been used to keep records since 1943, when Executive Order 9397 asked
agencies to do so. We may also use your SSN to make requests for information about you from employers,
schools, banks, and other who know you, but only where allowed by law. The information we collect by using your
SSN will be used for employment purposes, and also for studies and statistics that will not identify you. We may
give information from your records to appropriated federal agencies such as the Department of Labor and the Equal
Employment Opportunity Commission, to resolve and/or adjudicate matters falling within their jurisdiction. Records
may also be disclosed to labor organizations in response to requests for names of employees and identifying
information. Information we have about you may also be given to federal, state, and local agencies for checking on
law violations or other lawful purposes.
DISCLOSURE:
Your responses to the collection of this information are voluntary, but we cannot determine your eligibility, which is
the first step toward getting the job, if you do not answer these questions.
1. NAME
2a. SSN
3. JOB ANNOUNCEMENT/TITLE
4. ADDRESS
2b. DOB (YYYYMMDD)
5. WORK PHONE
6. HOME PHONE
7. FAX TELEPHONE NUMBER
8. E-MAIL ADDRESS
9. HAVE YOU EVER BEEN ARRESTED FOR OR CHARGED WITH A SEX CRIME, A CRIME INVOLVING A CHILD, A SUBSTANCE ABUSE
FELONY OR A VIOLENT CRIME? HAVE YOU EVER BEEN ASKED TO RESIGN BECAUSE OF OR BEEN DECERTIFIED FOR A SEXUAL OFFENSE?
If so, provide an description of the case disposition.
YES
NO
Note: A false statement rendered by an employee may result in adverse action up to and including
removal. Under 18 U.S. Code 1001, the federal punishment for perjury is fine or imprisonment for
up to 5 years, or both.
I declare under penalty of perjury that the information contained in this application form and any attachments or
documents submitted in connection with my application for this position are true and correct to the best of my
knowledge, information, and belief.
10. SIGNATURE
11. DATE (YYYYMMDD)
DA FORM 3433-2, JAN 2002, IS OBSOLETE.
DA FORM 3433-2, AUG 2002
USAPA V1.00ES
Download DA Form 3433-2 Supplemental-A Employment Application Form for Child-Youth Services Positions
DA Form 3433-2 instructions
Fill in your basic identifying information: your name, date of birth, social security number and address.
Fill in the job announcement name or title.
Provide the necessary contact information: your work phone and personal phone number, a fax number or an e-mail address. Your personal phone number will be the first way to contact you. If you wish to only be contacted via personal phone only fill in that field alone.
Box 9 covers past sexual offenses, substance abuse felonies, violent crime accusations or arrests for child-related crimes. Check the appropriate option and provide a written description of the case disposition if there was one. All information you provide will be subject to a variety of background checks.
The DA 3433-2 will be ready for submission after you sign and date the form in Boxes 10 and 11.
DA 3433-2 Related Forms
The Non-appropriated Fund (NAF) employment packet consists of three forms: DA form 3433, DA 3433-1 and DA 3433-2.