PS Form 3602-N1 Postage Statement - Nonprofit USPS Marketing Mail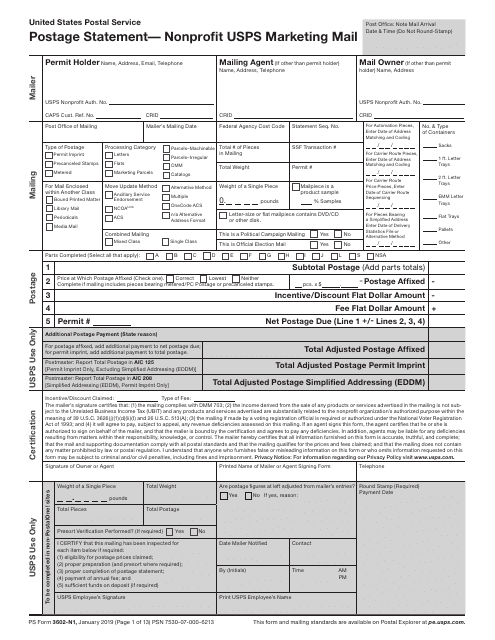 What Is PS Form 3602-N1?
PS Form 3602-N1, Postage Statement - Nonprofit USPS Marketing Mail - also known as the PS Form 3602-N or the USPS Form 3602-N - is a form released by the United States Postal Service (USPS) and used for sending USPS Marketing Mail postage at reduced prices. The reduced prices are available for organizations authorized by the USPS and whose individual mailings meet the eligibility rules that apply to Nonprofit USPS Marketing Mail.
The form was last revised on January 1, 2019. A printable PS Form 3602-N can be downloaded by clicking the link below or found on the USPS website.
USPS Nonprofit Postage Statement
Authorization to mail at the Nonprofit prices is a privilege, which was granted by law only to authorized organizations.
Nonprofit authorization is linked to a permit and mailers have a range of options for identifying the authorized nonprofit organization. One option is identifying the authorized nonprofit organization in the electronic documentation (eDoc), by providing a Permit Number previously linked to an active nonprofit authorization number in the eDoc.
Instead of a Permit Number, another option is to use the mail owner Customer Reference ID (CRID) and Mail Owner Mailer ID (MID) to identify the authorized nonprofit organization in the eDoc. It is required that a valid nonprofit authorization number is linked to the paying permit or the mail owner identifier used for nonprofit authorization identification in the eDoc.
Civil and criminal penalties apply to counterfeit or fraudulent statements made in relation to a Nonprofit USPS Marketing Mail mailing. As per USPS standards, an authorized organization must follow the following steps:
Ensure that they are mailing only its own matter.
Never use these reduced prices to send the matter on behalf of an unauthorized organization or individual.
Never delegate nor lend their Nonprofit USPS Marketing Mail authorization to any other person or organization.
Ensure that each mailing is presented with a properly completed postage statement.
The mailer's signature on the postage statement serves as certification that the mailpiece falls within the nonprofit prices eligibility range.
Should all of the following standards be met, an authorized organization may enter an individual mailing at the nonprofit prices:
The mailing contains USPS Marketing Mail matter only;
The mailing complies with the standards for Presorted USPS Marketing Mail;
The mailing is prepared as per standards in the DMM;
The mailing is the organization's own mail;
The mailing does not contain any product that is ineligible for mailing at the nonprofit prices;
The appropriate postage statement accompanies the mailing.
---
PS Form 3602-N Related Publications:
Other Revision
Download PS Form 3602-N1 Postage Statement - Nonprofit USPS Marketing Mail