PS Form 3602-NZ Postage Statement - Nonprofit USPS Marketing Mail Easy - Nonautomation Letters or Flats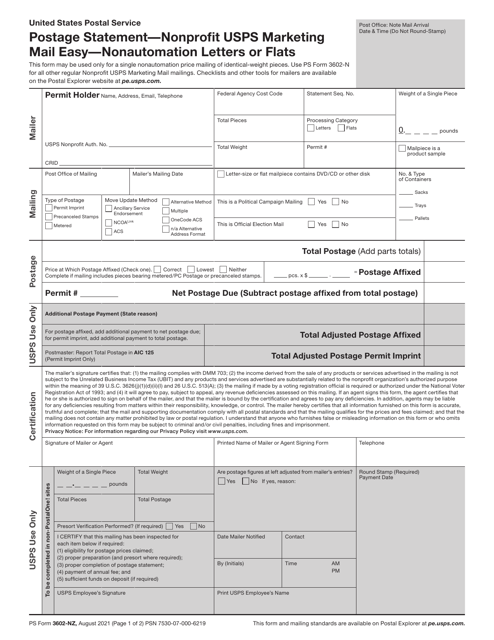 What Is PS Form 3602-NZ?
PS Form 3602-NZ, Postage Statement, is a form used to accompany any easy non-automation form letter, flyer or newsletter of the same weight through the United States Postal Service (USPS) for non-profit purposes.
Alternate Names:
USPS Form 3602-NZ;
USPS Non-profit Postage Statement.
This form was last revised on August 1, 2021, and is a part of a series of USPS Postage Statements. A printable PS Form 3602-NZ can be downloaded below or it can be found on the USPS website. As of today, no PS Form 3602-NZ fillable copies are available for download online.
PS Form 3602-NZ Instructions
Post Office of Mailing. Write the city and state of the post office where you hold your permit;
Mailing Date. Fill in the date when you drop off your mail;
Federal Agency Cost Code. The box is used by Federal Agency employees;
Statement Sequence Number. If you are using a single postage statement, leave this box blank;
Type of Postage. Permit Imprint, Precanceled Stamps or Metered;
Weight of a Single Piece. In decimal pounds to four digits;
Processing Category. Indicate the size of the pieces in your mailing;
Move Update Method. Indicate the appropriate Move Update method you have used within the past 95 days, to meet address quality standards in your mailing;
Total Pieces. This box must contain an exact number;
Total Weight. All of the pieces must be identical in weight. Multiply the weight of a single piece by the total number of pieces and enter the number into the box.
Parts B or E (Second side):
Entry Discount. Choose the correct destination entry category from the left column. Most beginning mailers choose "none";
Price Category, and Number of Pieces. Add up the total number of pieces that qualify for the USPS Marketing Mail prices and write that in the Number of Pieces column. Repeat for each price category. Then, multiply the Price by the Number of Pieces for each row, and enter that in the Total Postage;
Part B or E Total: Add all of the rows in the Total Postage column and write that in the "Total" box at the bottom of the column. This is the total amount of postage that you owe. This is the amount of money that will be deducted from your permit imprint account.
Postage (First side):
Total Postage. Bring the Part B or E Total to the first page under Total Postage;
Postage Affixed. If your mailing is paid with precanceled stamps or metered postage, you must complete this section. For precanceled stamp - the choice is "Neither". For metered postage - indicate whether you metered the correct price onto each piece or the lowest price in your mailing;
Net Postage Due. If paying with precanceled stamps or metered postage, subtract postage affixed from total postage and enter the difference on this line.
---
PS Form 3602-NZ Related Publications:
Download PS Form 3602-NZ Postage Statement - Nonprofit USPS Marketing Mail Easy - Nonautomation Letters or Flats