PS Form 3600-EZ Postage Statement ' First-Class Mail ' Easy Nonautomation Letters, Cards, or Flats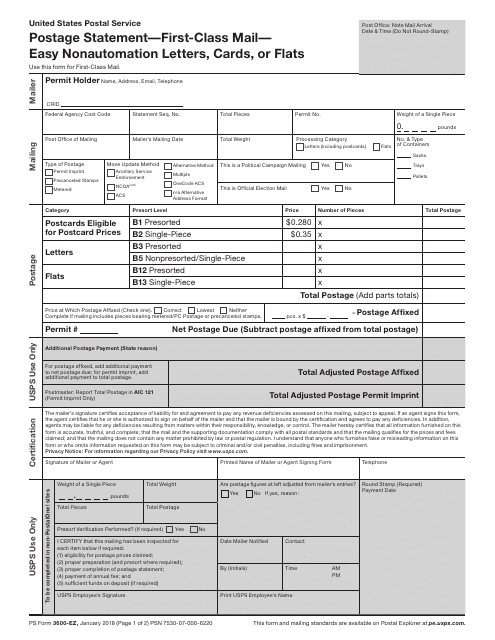 What Is PS Form 3600-EZ?
The PS Form 3600-EZ, Postage Statement - First-Class Mail - Easy - Nonautomation Letters, Cards, or Flats is a form you need to use when sending letters, postcards, or flats that meet the standards of First-Class Mail non-automation prices. It belongs to the "easy" (EZ) forms that may be paid by pre-cancelled stamps, permit imprint, or meter.
The document was issued by the United States Postal Service (USPS). The latest version of the statement - also known as the USPS Form 3600-EZ - was released on January 1, 2018. A printable PS Form 3600-EZ version can be downloaded below or found on the USPS Forms website.
PS Form 3600-EZ Instructions
First-Class Mail is the USPS service traditionally used for sending personal correspondence and bills. It allows mailing letters, postcards, large envelopes, and small packages that meet specific requirements. After preparing the mail piece, you will need to complete the corresponding USPS Postage Statement.
The USPS Form 3600-EZ is the perfect choice when sending postcards, letters, or flats eligible for non-automation prices through First-Class Mail service. It consists of two pages. The first page contains the form, while the second page has instructions.
The document is easy to complete:
Mailer and Mailing sections require data applicable to the mail piece you send. Non-applicable boxes should contain "N/A".
Choose the proper category in the Postage section and complete the corresponding boxes.
Total Postage part is required to contain the sum rounded off to two decimal places.
If you mail with postage affixed, fill out the corresponding part. In case Permit Imprint is used, move to the Certification section.
The Certification section contains a disclaimer you need to read carefully. If the document is completed properly and you accept the statements provided in the disclaimer, sign the form, indicate your name and phone number.
There exist two more documents that belong to the same series: PS Form 3600-PM and PS Form 3600-FCM. The first one is applicable for Priority Mail using either Commercial Plus or Commercial Base prices. The second form is used when sending mail or packages with First-Class priority.
PS Form 3600-EZ Related Publications
The PS 3600-EZ related forms include the following:
Download PS Form 3600-EZ Postage Statement ' First-Class Mail ' Easy Nonautomation Letters, Cards, or Flats