Form 130-U Application for Texas Title and/or Registration - Texas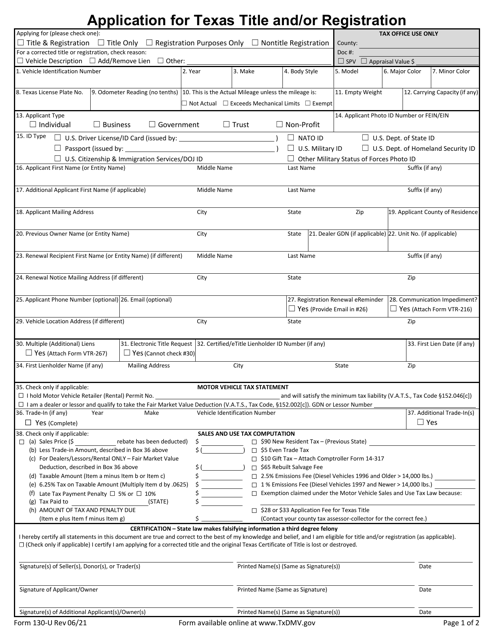 What Is Form 130-U?
Form 130-U, Application for Texas Title and/or Registration, is the main document used in Texas to obtain a vehicle title and registration. You are free to use this form instead of a regular vehicle bill of sale to transfer ownership of your car. This form was released by the Texas Department of Motor Vehicles (TxDMV). The latest version of the document was issued on June 1, 2021. You can download 130-U Form through the link below.
Below you will find a list of related forms and reasons for completing them:
How to Fill out Form 130-U?
Follow these steps to fill out an application for Texas title (Form 130-U):
Choose the reason for applying: to obtain a title, registration, or both. You may also obtain a nontitle registration - for certain farm equipment and construction machinery. If you need to correct a title or registration, check the reason for it;
Describe the vehicle by writing down its identification number, year, make, body style, model, colors, and a license plate number. Disclose the odometer reading and the actual mileage of the vehicle;
Indicate the applicant type and add identification information. State the applicant's full name and address;
Submit the previous owner's personal details;
Write down the lien information if applicable - lienholder's name, address, and attach Form VTR-267, Additional Liens Statement;
Fill out the sales and use tax computation. You can indicate the sales price or state the vehicle is given as a gift;
Sign the form and write the actual date.
Who Fills out Form 130-U?
Texas Form 130-U must be completed and signed by the seller (donor, trader) and the title applicant (new owner of the vehicle). Once filled out, the document, along with the assigned title and proof of insurance, must be filed with the TxDMV within thirty days of the date of sale. The applicant also must pay the title, registration, and sales tax fees.
Download Form 130-U Application for Texas Title and/or Registration - Texas