DA Form 2408-5 Equipment Modification Record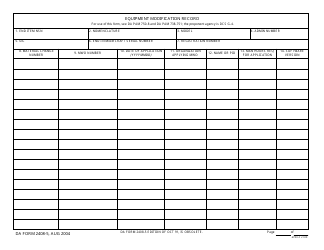 DA Form 2408-5 - also known as the "Equipment Modification Record" - is a United States Military form issued by the Department of the Army.
The form - often mistakenly referred to as the DD form 2408-5 - was last revised on August 1, 2004. Download an up-to-date fillable PDF version of the DA 2408-5 down below or look it up on the Army Publishing Directorate website.
EQUIPMENT MODIFICATION RECORD
For use of this form, see DA PAM 750-8 and DA PAM 738-751; the proponent agency is DCS G-4.
1. END ITEM NSN
2. NOMENCLATURE
3. MODEL
4. ADMIN NUMBER
5. UIC
6. END ITEM/AIRCRAFT SERIAL NUMBER
7. REGISTRATION NUMBER
8. MATERIAL CHANGE
10. DATE OF APPLICATION
11. ORGANIZATION
13. MAN HOURS REQ
14. SOFTWARE
9. MWO NUMBER
12. NAME OR PID
NUMBER
(YYYYMMDD)
APPLYING MWO
FOR APPLICATION
VERSION
Page
of
DA FORM 2408-5 EDITION OF OCT 91, IS OBSOLETE.
DA FORM 2408-5, AUG 2004
APD LC v1.00