DA Form 5627-R Cash Property and Reconciliation Record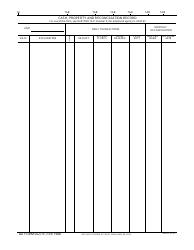 DA Form 5627-R - also known as the "Cash Property And Reconciliation Record" - is a United States Military form issued by the Department of the Army.
The form - often mistakenly referred to as the DD form 5627-R - was last revised on February 1, 1988. Download an up-to-date fillable PDF version of the DA 5627-R down below or look it up on the Army Publishing Directorate website.
M
TAB
TAB
TAB
TAB
TAB
TAB
CASH, PROPERTY AND RECONCILIATION RECORD
For use of this form, see DoD 7000.14-R Volume13; the proponent agency is USAFAC
MONTHLY
UNIT
DAILY TRANSACTIONS
RECONCILIATION
R
EXPEND-
BANK
PROP-
BAL PER
DA FORM
DATE
EXPLANATION
RECEIPT
E
ITURES
BALANCE
ERTY
BANK
4078
F
DA FORM 5627-R, FEB 1988
APD LC v1.00
REPLACES EDITION OF FEB 87, WHICH MAY BE USED