DD Form 1966 Record of Military Processing - Armed Forces of the United States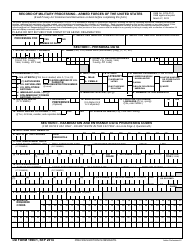 What Is a DD Form 1966?
DD Form 1966, Record of Military Processing - Armed Forces of the United States is used for collecting information about individuals enlisting in the U.S. Army to determine if they meet recruitment standards. The DD 1966 also contains a section that provides written consent to allow medical providers to release personal medical records to the DoD.
The latest version of the form - sometimes incorrectly referred to as the DA Form 1966 - was released by the Department of Defense in September 2014 with the August 2011 edition being obsolete.
Additional information is also gathered from employers and schools so that the Department of Defense can determine eligibility for joining the Army and to verify the identity of the enlistees. If all standards are met, the information provided on this form starts the soldier's Official Military Personnel File.
How Do I Get My DD Form 1966?
An up-to-date DD Form 1966 fillable version is available for download and digital filing below or can be found on the Executive Services Directorate website.
RECORD OF MILITARY PROCESSING - ARMED FORCES OF THE UNITED STATES
OMB No. 0704-0173
OMB approval expires
(Read Privacy Act Statement and Instructions on back before completing this form.)
March 31, 2018
The public reporting burden for this collection of information, 0704-0173, is estimated to average 20 minutes per response, including the time for reviewing instructions, searching existing data
sources, gathering and maintaining the data needed, and completing and reviewing the collection of information. Send comments regarding this burden estimate or any other aspect of this
collection of information, including suggestions for reducing the burden, to the Department of Defense, Washington Headquarters Services, at whs.mc-alex.esd.mbx.dd-dod-information-
collections@mail.mil. Respondents should be aware that notwithstanding any other provision of law, no person shall be subject to any penalty for failing to comply with a collection of information if it
does not display a currently valid OMB control number.
PLEASE DO NOT RETURN YOUR FORM TO THE ABOVE ORGANIZATION.
A. SERVICE
C. SELECTIVE SERVICE CLASSIFICATION D. SELECTIVE SERVICE REGISTRATION NO.
B. PRIOR SERVICE:
PROCESSING FOR
YES
NO
NUMBER OF DAYS:
SECTION I - PERSONAL DATA
2. NAME
1. SOCIAL SECURITY NUMBER
(Last, First, Middle Name (and Maiden, if any), Jr., Sr., etc.)
3. CURRENT ADDRESS
4. HOME OF RECORD ADDRESS
(Street, City, County,
(Street, City, County, State,
State, Country, ZIP Code)
Country, ZIP Code)
7.b. RACIAL CATEGORY
5. CITIZENSHIP
6. SEX
7.a. ETHNIC
(X one or more)
(X one)
(X one)
CATEGORY
(1) AMERICAN INDIAN/
a. U.S. AT BIRTH (If this box is marked, also X (1) or (2))
a. MALE
(4)
NATIVE HAWAIIAN
ALASKA NATIVE
OR OTHER PACIFIC
(1) HISPANIC OR
(2) BORN ABROAD OF U.S.
(1) NATIVE BORN
b. FEMALE
ISLANDER
LATINO
PARENT(S)
(2) ASIAN
b. U.S. NATURALIZED
ALIEN REGISTRATION NUMBER
(2) NOT HISPANIC
(3) BLACK OR AFRICAN
(5) WHITE
c. U.S. NON-CITIZEN
(If issued)
OR LATINO
AMERICAN
NATIONAL
8. MARITAL STATUS
9. NUMBER OF DEPENDENTS
d. IMMIGRANT ALIEN (Specify)
(Specify)
e. NON-IMMIGRANT FOREIGN
NATIONAL (Specify)
13.
10. DATE OF BIRTH
PROFICIENT IN FOREIGN
1st
2nd
11. RELIGIOUS
12. EDUCATION
LANGUAGE (If Yes, specify.
PREFERENCE
(YYYYMMDD)
(Yrs/Highest Ed
If No, enter NONE.)
(Optional)
Gr Completed)
15. PLACE OF BIRTH
14. VALID DRIVER'S LICENSE
YES
NO
(City, State and Country)
(X one)
(If Yes, list State, number, and expiration date)
SECTION II - EXAMINATION AND ENTRANCE DATA PROCESSING CODES
(FOR OFFICE USE ONLY - DO NOT WRITE IN THIS SECTION - Go on to Page 2, Question 20.)
16. APTITUDE TEST RESULTS
GS
AR
WK
PC
MK
EI
AS
MC
AO
VE
a. TEST ID b. TEST SCORES
AFQT
PERCENTILE
17. DEP ENLISTMENT DATA
a. DATE OF ENLISTMENT - DEP
b. PROJ ACTIVE DUTY DATE
c. ES d. RECRUITER IDENTIFICATION
e. STN ID
f. PEF
(YYYYMMDD)
(YYYYMMDD)
i. PAY
l. AD OBLIGA-
h. WAIVER
(2)
(3)
(4)
(5)
(6)
j. SVC ANNEX CODES
k. MSO
g. T-E MOS/AFS
(YYWW)
(1)
GRADE
TION
(YYWW)
18. ACCESSION DATA
e. AD/RC OBLIGATION
d. MSO
a. DATE OF ENLISTMENT
b. ACTIVE DUTY SERVICE DATE
c. PAY ENTRY DATE
(YYMMWWDD)
(YYWW)
(YYYYMMDD)
(YYYYMMDD)
(YYYYMMDD)
f. WAIVER
j.
(2)
(3)
(4)
(5)
(6)
g. PAY GRADE
h. DATE OF GRADE
YRS./HIGHEST
i. ES
(YYYYMMDD)
(1)
ED GR COMPL
r.
k. RECRUITER IDENTIFICATION
l. STN ID
m. PEF
n. T-E MOS/AFS
o. PMOS/AFS
p. YOUTH
q. OA
STATE
GUARD
s. SVC ANNEX CODES
t. REPLACES ANNEXES
u. TRANSFER TO (UIC)
19. SERVICE
1
2
3
4
5
6
7
8
9
10
11
12
13
14
15
16
17
18
19
20
21
22
23
24
25
REQUIRED
CODES
26
27
28
29
30
31
32
33
34
35
36
37
38
39
40
41
42
43
44
45
46
47
48
49
50
51
52
53
54
55
56
57
58
59
60
61
62
63
64
65
66
67
68
69
70
71
72
73
74
75
76
77
78
79
80
81
82
83
84
85
86
87
88
89
90
91
92
93
94
95
96
97
98
99
100
101
102
103
104
105
106
107
108
109
110
111
112
113
114
115
116
117
118
119
120
121
122
123
124
125
126
127
128
129
130
131
132
133
134
135
136
137
138
139
140
DD FORM 1966/1, SEP 2014
PREVIOUS EDITION IS OBSOLETE.
Adobe Professional X
Download DD Form 1966 Record of Military Processing - Armed Forces of the United States
How to Read DD Form 1966?
The form consists of five subsections: DD Form 1966/1, DD Form 1966/2, DD Form 1966/3, DD Form 1966/4, DD Form 1966/5. The instructions are on the back of the first page along with the privacy act statement.
DD Form 1966 Instructions
A complete overview of the form is included in the Army Regulation 601–210, released on May 16th, 2005. The guidance counselor will review and ensure that DD 1966 is properly completed and compare all entries to verification documents and the SF 86 (Standard Form 86, Questionnaire for National Security Positions). The final completed DD Form 1966 should be free of errors and must be legible. The counselor will print all entries.
The first page of the form consists of four blocks and two sections. Block A is for information on the service processing for. Block B is providing information about prior service and the duration of that past service. Block C is for selective service classification if there is any. Block D is for a selective service registration number if there is one.
Section I consists of 15 Blocks all for providing personal data. This includes the name of the enlistee, their SSN, current address and home of record, citizenship data, date of birth, marital status and information about education and dependents - if any.
Section II is for providing examination and entrance data processing codes. Block 16 is for aptitude test results (results are provided by MEPS personnel, system or DMDC). Block 17 is for DEP enlistment data. Block 18 is for Accession Data. Block 19 is for providing Service required codes. (DEP/ACCESSION RECORD is to be completed by MEPS personnel).
The second page starts with Blocks 20 (Name) and 21 (SSN) and a Section III where other personal information must be provided.  This Section consists of Block 22 (Education), Block 23 (Marital/Dependency Status and Family Data), Block 24 (Previous military service or employment with US government, Block 25 (Ability Perform Military Duties), Block 26 (Drug abuse). All blocks in Section III are yes or no questions.
The third page contains Section IV and Section V as well as the same two blocks for the name and SSN of the enlistee.

Section IV is for the certification by all of the different parties involved in the enlistment process. This includes the names, verification signatures and other personal information of the applicant, the recruiter, a witness, and the acceptor.
Section V is for recertification and is filed at the time of entering active duty if any changes are required.

The fourth page contains lines for the name and the SSN as well as Sections VI (Remarks) and Section VII (Statement of Name).  Section VII specifies the name as shown on the birth certificate and SSN card for official military records and records any changes of name that may have taken place.
Page five is for Section VIII - Parental/Guardian Consent For Enlistment. This page should be used only if any of the provided options are applicable to the record of military processing.