DA Form 330 Language Proficiency Questionnaire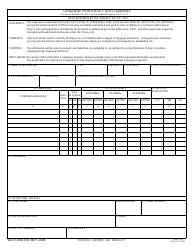 DA Form 330, Language Proficiency Questionnaire is a form that records the results of foreign language proficiency tests undergone by U.S. Army personnel. The information within the form is used to evaluate foreign language skills and to determine eligibility for positions that require foreign language proficiency.
The latest version of the form - sometimes incorrectly referred to as the DD Form 330 - was released by the Department of the Army (DA) in May 2008 with the previous editions being obsolete. An up-to-date DA Form 330 fillable version is available for digital filing and download below or can be found through the Army Publishing Directorate website.
What Is DA Form 330?
The U.S. Army provides a number of jobs that require the soldier to have a fluent knowledge of a foreign language. The Department of Defense (DoD) uses the Defense Language Proficiency Test (DLPT) to measure the ability to read and listen in a foreign language. Exams are taken annually - normally after an language maintenance course - but can also be taken every six months at will.
A service member proficient in one or more foreign languages can be granted special pay via the Foreign Language Proficiency Bonus (FLPB) - formerly known as the Foreign Language Proficiency Pay. Bonus payments range from $100 to $500 a month, depending on the language or dialect spoken and the documented level of proficiency.
Actions determined by the DA 330 include:
Award and withdrawal of Software Quality Improvement (SQI);
FLPB eligibility;
Top-loading of the control language (CLANG) or language identification code (LIC) into the enlisted master file (EMF) by the Commander.
LANGUAGE PROFICIENCY QUESTIONNAIRE
For use of this form see AR 11-6; the proponent agency is DCS, G-2 .
DATA REQUIRED BY THE PRIVACY ACT OF 1974
This collection is authorized by Section 3012 of Title 10, United States Code, and Executive Order No. 9397 (SSN). The information
AUTHORITY:
you furnish will be treated For Official Use Only and will be maintained and used in strict confidence in accordance with Federal
Privacy laws and regulations and will only be disclosed to authorized personnel within Army, DOD, and other government agencies
consistent with authorized disclosures under the Privacy Act.
Your SSN will be used to correctly identify you as an individual with a degree of language proficiency. During personal interviews,
PRINCIPLE:
you may also be asked to disclose personal information about your background, past experience, knowledge, etc.
This information will be used to evaluate and determine your eligibility for assignment to and performance of duty in positions
PURPOSE:
requiring foreign language proficiency.
Disclosure of this information is voluntary; however, failure to provide some or all of the requested information could result in
DISCLOSURE:
non-qualification for selection or assignment to duty requiring knowledge of the foreign language in question.
1. NAME (Last, First, MI)
2. SSN
3. GRADE
4. SSI/PMOS
5. CONTROL LANGUAGE
6. SERVICE/AGENCY
7. COMPONENT
8. ORGANIZATION AND STATION
9. LANGUAGE
10. PROFICIENCY
11. DATE OF
EVALUATION
HOW
LISTENING
READING
SPEAKING
ACQUIRED
LANG.
FOREIGN LANGUAGE
CODE
1st
2nd
3rd
METHOD
RATING
METHOD
RATING
METHOD
RATING
YYYY
MM
DD
a.
b.
c.
d.
e.
f.
g.
h.
i.
j.
k.
l.
m.
n.
12. REMARKS
13. REPORTING OFFICIAL
a. TYPED NAME
b. RANK/GRADE
c. PHONE NUMBER
d. UNIT/ORGANIZATION
e. EMAIL
f. DATE (YYYYMMDD)
g. SIGNATURE
PREVIOUS EDITIONS ARE OBSOLETE
Page 1 of 2
DA FORM 330, MAY 2008
APD LC v1.02ES
How to Fill out DA Form 330?
Procedural guidelines and extra information can be found in the AR 11-6 (Army Foreign Language Program) released in February 2016. DA Form 330 instructions are as follows:
Boxes 1 through 4 contain personal identifying information about the service member undergoing evaluation. Box 5 - Control Language - should be left blank.
Boxes 6 and 7 require the soldier's Service Branch or Agency and their Service Component (Active, Army National Guard (ARNG) or Reserves).
Box 8 is for specifying the organization and station of the service member.
The columns in Box 9 are completed with the test results for each language evaluated. Multiple skills of the same language measured in the same day can be entered on one line. Skills evaluated on different days are entered on separate lines.

Boxes 9a and 9b are for the evaluated foreign language and its identification code. Boxes 9c, 9d and 9e identify the method through which the language skills were acquired with a code:

| | |
| --- | --- |
| Civilian School | A |
| Defense Language Institute Foreign Language Center (DLIFLC) | B |
| Foreign Residence | C |
| Home Environment | D |
| Military School other than DLIFLC | F |
| Self-Study | E |

Box 10 rates the service member's listening, reading and speaking proficiency and specifies the method of evaluation.
Box 11 provides the dates of each test taken.

The type of DoD Standard Test - DLPT-I, DLPT-II, DLRPT, DLPT-III, DLPT-IV, DLPT-5, or Oral Proficiency Interview (OPI) - is identified in Box 12, Remarks.

The lines in Box 13 provide the personal identifying information of the reporting official.