Speaker Contract Template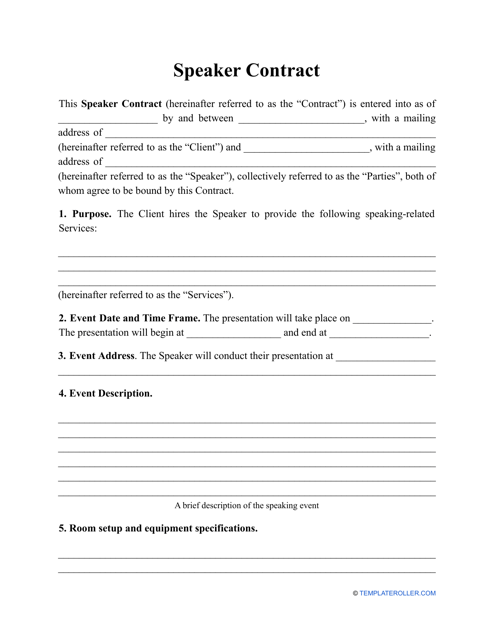 Fill PDF Online
Fill out online for free
without registration or credit card
What Is a Speaker Contract?
A Speaker Contract is a legal agreement between a speaker and a legal entity that outlines the personal services of the individual booked to speak at a public or private event. Whether you are facing an upcoming conference or a need for personal development and individual coaching, it is recommended to sign an agreement to protect the interests of both parties. Draft your own contract using our online form builder or simply download a Speaker Contract template below.
Alternate Name:
Speaker Agreement Template.
Many speakers have strict rules about taking photos and videotaping to reduce the selling of their content since their presentation is their money-making product. If you plan to record the speech on video and use it later for commercial purposes, complete and sign a Release Form. It is also possible to sign this document if the event is streamed online, including live streaming apps that allow the public to be a part of an event without physically having to be present.
What Do I Need to Include in a Speaker Agreement?
To compose a Public Speaking Contract, write down the following information:
Legal names and contact information of the parties.
Date and time of the speaking services.
Address of the event venue. Some venues have taping restrictions so consult with the venue owner if you plan to photograph or videotape the event - it may add extra fees.
Room setup and equipment specifications. Discuss these details while negotiating to come up with a reasonable compromise. Usually, the speaker needs a screen, props, and volunteers, but in some cases, a laser pointer, projector, and laptop are enough. You should also discuss the position of the speaker on stage - find out how the audience will see the presenter to maximize the experience.
Speaker's fee. Indicate all the payments, preferably, with a table.
Copyright, trademark, and privacy rights. The speaker usually reserves the right to exclusively use visual, written, and oral materials used in the presentation.
Expenses. A Speaker Contract might cover the travel and hotel costs, as well as payment for the audio-visual equipment.
Signatures of the parties.
---
Still looking for a particular form? Take a look at these related forms:
Download Speaker Contract Template