DA Form 5305 Family Care Plan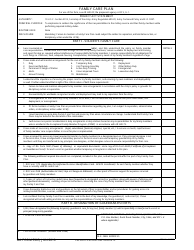 What Is DA Form 5305?
DA Form 5305, Family Care Plan is a form for military members unable to provide care for their families and seeking assistance and substitution while they are on active duty.
The latest edition of the form - previously known as the DA Form 5305-R and often incorrectly referred to as DD Form 5305 - was released by the Department of the Army in June 2010. A fillable up-to-date Army DA Form 5305 is available for download and digital filing below or can be found on the Army Publishing Directorate website.
The DA 5305 allows these servicemembers to develop a comprehensive family care plan. This concerns the following groups:
Soldiers who have underage children (younger than 19) or adult depending family members unable to take care of themselves, and who are not together with their spouse;
Soldiers, whose spouses are unable to function due to disability;
Dual military couples with underage children or adult depending family members unable to take care of themselves.
FAMILY CARE PLAN
For use of this form, see AR 600-20; the proponent agency is DCS, G-1.
PRIVACY ACT STATEMENT
10 U.S.C. Section 3013, Secretary of the Army: Army Regulation 600-20, Army Command Policy and E.O. 9397.
AUTHORITY:
To emphasize to soldiers the significance of their responsibilities to the military service and their family members while
PRINCIPAL PURPOSE:
performing required military duties.
ROUTINE USES:
None
Mandatory; Failure to maintain a Family Care Plan could subject the soldier to separation, administrative action, or
DISCLOSURE:
disciplinary action under the UCMJ.
PART I - SOLDIER'S FAMILY CARE
A .
I was counseled on
(date) , and fully understand the policy on family member
INITIALS
care responsibilities. I understand that I must arrange for care of my family members, remain available for deployment and training,
and report for duty as required without interference of responsibility for family members. I assume responsibility for all obligations for
such things as child care, food, adequate housing, transportation, and emergency needs of my family members regardless of age.
B.
I have made and will maintain arrangements for the care of my family members during all the following:
1.
Duty
6.
Temporary Duty
11.
Deployment
2.
Exercises/field duty
7.
Unit Training Assembly
12.
Other Military Duty
3.
Permanent Change of Station
8.
Active Duty Training
13.
Emergencies
4.
Alerts
9.
Unaccompanied Tours
14.
Leave/non-duty Time
5.
Annual Training
10.
Mobilization
C.
I understand the importance of ensuring the proper care for my family members, and ensuring my own readiness and deployability
as well. I further understand that in light of the critical nature of both these requirements:
Failure to make and maintain adequate family member care arrangements in accordance with the Army's policy is grounds for
1.
disciplinary action or separation.
2.
Nonavailability for worldwide assignment and/or unit deployment may lead to my separation from the Army.
3.
If arrangements for the care of my family members fail to work, I am not automatically excused from prescribed duties, unit
deployment, or reassignment.
If I fail to maintain a Family Care Plan or provide false information regarding my plan, I am subject to separation, administrative
4.
action, or disciplinary action under UCMJ.
I must maintain an up-to-date Family Care Plan and revise my Plan when circumstances change. I understand that Family Care
5.
Plans may be tested at the discretion of the commander.
6.
I will receive no special consideration in duty assignments or duty stations based on my responsibilities for my family members
unless enrolled in the Exceptional Family Member Program (EFMP) in accordance with AR 600-75.
I have made all necessary arrangements (legal, educational, financial, religious, special, etc.) to ensure a smooth, rapid turnover
D.
of family member care responsibilities in case this plan is implemented.
I have arranged for necessary travel required to transfer my family members to a designated person. If my principal designee is not
E.
in the local area, I have arranged with a nonmilitary person in the local area to assume temporary guardianship of my family
members until they are transferred to my principal care designee, or that designee arrives to assume responsibility for their care.
F.
A copy of DA Form 5841 (Power of Attorney) or equivalent documents and a copy of DA Form 5840 (Certificate of Acceptance
as Guardian or Escort) for each escort or guardian whether temporary or long-term is attached to this plan.
G.
The following additional required documents are completed, included in this plan, and will be put into effect as part of my Family Care
Plan.
1. DD Form 1172 (Application for Uniformed Services Identification Card - DEERS Enrollment) for each family member whether they
have a currently valid ID card or not.
2. DD Form 2558 (Authorization to Start, Stop or Change an Allotment) or other proof of financial support for expenses incurred
by guardian and family members.
3. Copies of Letters of Instruction (which have been forwarded to designated escorts or guardians along with powers of attorney and
other pertinent documents), outlining all special instructions concerning the care of my family members have also been included in
my Family Care Plan.
H.
I have thoroughly briefed escorts and guardians on the full extent of their responsibilities and on procedures for gaining access to
military/civilian facilities, services, entitlements and benefits on behalf of my family members.
I.
I am confident that my Family Care Plan is workable, and to the best of my knowledge, the guardian (s) and escort (s) I have
designated will be both willing and able to carry out the responsibilities of caring for my family members.
PART II - DESIGNATION OF GUARDIANS/ESCORTS
A.
I (We) have designated the following temporary guardian to care for my (our) family member (s) until responsibility is transferred to escort or
principal (long-term) guardian.
COMPLETE ADDRESS (Including Street, Apartment Number,
1.
TYPED OR PRINTED NAME
2a.
P.O. Box Number, Rural Route Number, City, State, and ZIP + 4
where applicable)
3.
TELEPHONE NUMBER (Include Area Code)
2b. E- MAIL ADDRESS
PREVIOUS EDITIONS ARE OBSOLETE.
APD LC v1.00ES
DA FORM 5305, JUN 2010
DA Form 5305 Instructions
Step-by-step guidelines and additional information about the DA 5305 can be found in the Army Regulation 600–20, Army Command Policy, released in November 2014. The form itself consists of 4 parts.
Part I concerns the soldiers family care and consists of statements to accept. The individual filing must certify their agreement with their signature.
Part II designates the guardian. The soldier has to provide the guardians' name and address.
Part III is for dual military couples only and includes a certification of a spouse and their command.
Part IV is reserved for the servicemember filing the form and their commander. The unit commander is the only person that can approve the DA 5305.
DA 5305 Related Forms