Certificate of Incumbency Template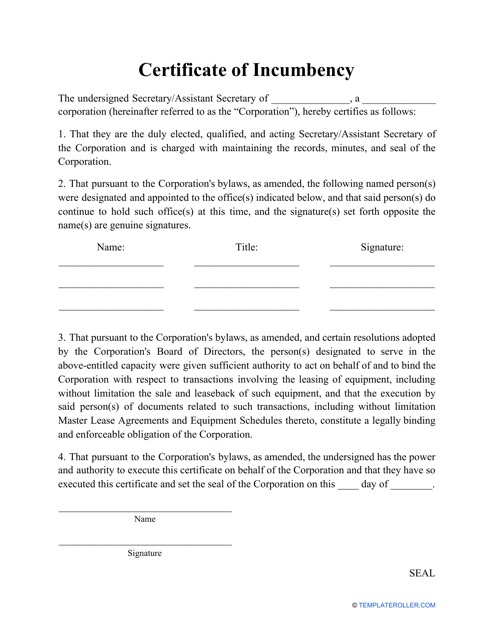 What Is a Certificate of Incumbency?
A Certificate of Incumbency is a legal document issued by a business to identify the company directors, officers, shareholders, and upper-level managers and specify their authority to enter into various transactions acting on behalf of the business.
This certificate gives the individuals listed in it the power to sign agreements and other documentation related to the company's activities. It is usually completed when a new business is created. However, it is allowed to modify a Certificate of Incumbency Form to add a new company director or key shareholder.
If you are looking for a Certificate of Incumbency template, you can download a ready-made one through the link below.
How to Fill Out a Certificate of Incumbency?
Follow these steps to create an Incumbency Certificate:
Name your company and add its legal address. Identify the corporate secretary who certifies the information in the certificate is true and accurate.
List all the officers who enter into and execute legally binding contracts on behalf of your business - the incumbents. You can name any of the current officers, directors, and managers. State which positions they hold within the company. Usually, it is enough to identify the company's chief executive officer and chief financial officer. Still, you can add any names you want as long as you can trust the individual to sign the documentation as a company representative.
Specify which actions the individuals mentioned above are allowed to perform and which transactions of a legal nature they are authorized to endorse. For instance, if you are creating a Certificate of Incumbency in order to engage in foreign trade, you can list the documents an incumbent can sign and the countries where the incumbent can conduct the business.
Sign the form and use a company seal to verify it. You do not have to notarize the Incumbency Certificate if you do not want to.
Who Can Issue a Certificate of Incumbency?
An Incumbency Certificate can be prepared by any business to confirm the identity of individuals authorized to act on behalf of this business. Generally, this document is filled out by the corporate secretary - a person in charge of the company's records and documents who bears responsibility for the efficient administration of the business. To authenticate the certificate, a corporate secretary must use a corporate seal to show the document was drafted as an act of the company. Use a Certificate of Incumbency in the following circumstances:
You have created a business and need to identify its representatives for any third party. It is possible to compose a certificate in advance or draft it whenever a government agency or a sub-contractor requests it to ensure the legality of a particular agreement;
You want to name a new officer as your legal representative. You can revoke a dated certificate and issue a new one at any time;
You are doing business in a foreign country and need to provide a certain individual with authorization to enter into transactions on the company's behalf;
You need to comply with a request for an Incumbency Certificate from an attorney or a financial institution when opening a bank account or conducting a major transaction.
---
Still looking for a particular template? Take a look at these related templates below:
Download Certificate of Incumbency Template