DA Form 3349 Physical Profile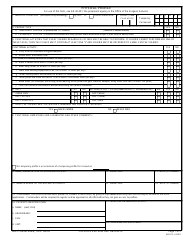 What Is DA Form 3349?
DA Form 3349, Physical Profile is an official document issued by the Department of the Army to describe the medical condition of a service member. The main purpose of the form is to protect a service member from aggravating their physical condition caused by an injury or illness when performing the required duties outlined in their Military Occupational Specialty (MOS) - like heavy lifting, standing for long periods of time, participating in the Army physical fitness test, etc.
The latest edition of the DA 3349 was issued by the Department in September 2010. The form is often incorrectly called the DD Form 3349, though this name is never applied within official structures. An up-to-date fillable version of the DA Form 3349 is available for download and digital filing below or can be found on the Army Publishing Directorate website.
According to the Army Regulation (AR) 40-501 (Standards of Medical Fitness), service members are considered deployable if they meet all the required personnel readiness standards and are not restricted from worldwide deployment. Personnel readiness can be reported and managed by the company commanders through the Military Medical Protection System (MEDPROS).
PHYSICAL PROFILE
For use of this form, see AR 40-501; the proponent agency is the Office of the Surgeon General.
INJURY? Or
ILLNESS/DISEASE?
2. CODES
3.
(Table
P
U
L
H
E
S
1. MEDICAL CONDITION:
(Description in lay terminology)
7-2 AR 40-501)
Temporary
Permanent
4. PROFILE TYPE
YES
NO
a. TEMPORARY PROFILE
(Expiration date YYYYMMDD)
(Limited to 3 months duration)
b. PERMANENT PROFILE
(Reviewed and validated with every periodic health assessment or after 5 years from the date of issue)
5. FUNCTIONAL ACTIVITIES THAT EVERY SOLDIER REGARDLESS OF MOS MUST BE ABLE TO PERFORM. IF SOLDIER CANNOT PERFORM ANY ONE OF
THESE TASKS, THEN THE PULHES MUST CONTAIN AT LEAST ONE "3" AND SOLDIER MUST BE REFERRED TO A MEB. CAN THE SOLDIER:
YES
NO
FUNCTIONAL ACTIVITY:
a. Carry and fire individual assigned weapon?
b. Evade direct and indirect fire?
c. Ride in a military vehicle for at least 12 hours per day?
d. Wear a helmet for at least 12 hours per day?
e. Wear body armor for at least 12 hours per day?
f. Wear load bearing equipment (LBE) for at least 12 hours per day?
g. Wear military boots and uniform for at least 12 hours per day?
h. Wear protective mask and MOPP 4 for at least 2 continuous hours per day?
i. Move 40lbs (for example, duffle bag) while wearing usual protective gear (helmet, weapon, body armor and LBE) at least 100 yards?
j. Live in an austere environment without worsening the medical condition?
6. APFT
YES
NO
ALTERNATE APFT
N/A
YES
NO
(Fill out if unable to do APFT run otherwise N/A)
2 MILE RUN
APFT WALK
APFT SIT-UPS
APFT SWIM
APFT PUSH UPS
APFT BIKE
7. DOES THE SOLDIER MEET RETENTION STANDARDS IAW CHAPTER 3 AR 40-501?
YES
NEEDS MMRB
NO
NEEDS MEB
8. FUNCTIONAL LIMITATIONS AND CAPABILITIES AND OTHER COMMENTS:
This temporary profile is an extension of a temporary profile first issued on
9. NAME, GRADE & TITLE OF PROFILING OFFICER
10. SIGNATURE
11. DATE
(YYYYMMDD)
12. NAME & GRADE OF APPROVING AUTHORITY
13. SIGNATURE
14. DATE
(YYYYMMDD)
15. Commanders can access the electronic profiles of Soldiers in their unit(s) by going to http://www.mods.army.mil/ and clicking on eProfile in the list of
applications. Commanders will be required to register and be approved in eProfile before they can gain access to profiles.
17. HOSPITAL OR MEDICAL FACILITY
16. PATIENT'S IDENTIFICATION
a. NAME:
(Last, First)
b. GRADE/RANK:
c. SSN:
18. PROFILING OFFICER E-MAIL
d. UNIT:
Page 1 of 2
DA FORM 3349, SEP 2010
PREVIOUS EDITIONS ARE OBSOLETE
APD PE v1.00ES
DA Form 3349 Instructions
The official manual for the DA 3349 is the AR 40-66 (Medical Record Administration and Healthcare Documentation) introduced on January 4th, 2010.
The profiling officer preparing the document must record the service member's physical limitations or medical conditions in plain language understandable to a layman. The profiling officer will need to determine if the service member is medically qualified for performing military duties under field conditions and for participating in the Army Physical Fitness Test (APFT). A separate section of the DA Form 3349 is used to describe the service member's medical profile type. There are two of them:
Temporary profiles are given if the service member is temporarily recovering from an illness, surgery, or injury. Active Duty and Reserve Component service members with temporary profiles need to undergo medical evaluations once every three months. The profiling officer has to indicate an expiration date if assigning a temporary profile. According to the new DA Form 3349 revision, a service member will not be automatically eligible for a recovery period after temporary profile termination.
Permanent profiles are given if the service member's condition is considered permanent. In these cases, a correction or treatment of the condition is not advisable, because it will not result in a higher physical capacity.
The profiling officer will enter their contact information in the same box that describes the service member's medical condition giving the service member's commander the ability to correspond with them directly through the Medical Readiness Portal (MRP). Commanders are required to review all physical profiles within 14 days for Active Duty personnel and within 30 days for Army National Guard (ARNG) and U.S. Army Reserve (USAR).
How to Complete the PULHES DA Form 3349 Asks For?
The February 2004 edition of the DA 3349 used to require a Physical Profile Serial System (PULHES) code. The September 2010 version of the form no longer requires this data.