Bill of Sale (Manufactured/Mobile Homes) - Nevada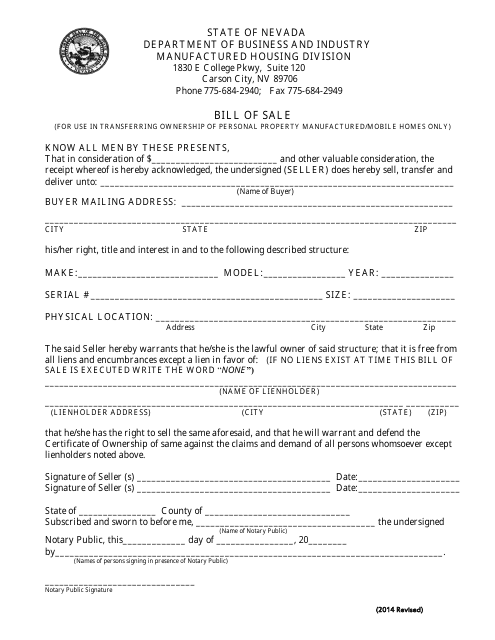 What Is a Nevada Mobile Home Bill of Sale?
The Nevada Bill of Sale (Manufactured/Mobile Homes) is a form that records and proves the legal sale and purchase of a manufactured home (mobile home) between the seller and the buyer. It verifies the sale, ensures evidence of purchase for the buyer, and releases the seller from any obligations in the future. This form was released by the Manufactured Housing Division of the Nevada Department of Business and Industry.
The latest version of the form was issued on January 1, 2014, with all previous editions obsolete. You can download a fillable Nevada Mobile Home Bill of Sale form through the link below.
Does a Mobile Home Bill of Sale Have to Be Notarized in Nevada?
This bill of sale does require notarization in order to be legally binding.
Nevada Mobile Home Laws
A mobile home is a movable or portable dwelling structure built on a steel chassis, designed without a permanent foundation, connected to utilities, and intended for year-round human habitation. A manufactured home is a housing assembled in a factory and built on a permanent chassis to ensure transportability, however, as a rule, a manufactured home is rarely moved from its installment site. Both of them are considered personal property.
If you plan to place your mobile home in a home park, make sure you sign a lease agreement with the park manager and familiarize yourself with the park's regulations and rules. The State of Nevada governs the relationship between mobile home park managers (landlords) and mobile homeowners (tenants) who rent space in those parks. The Manufactured Housing Division issues licenses for the parks and managers, inspects and grants titles for mobile homes, and deals with disputed between landlords and tenants.
When selling a mobile home in Nevada, the owner must give the buyer the original title along with inspection reports, repair invoices, lien releases, and any other documents that could be helpful or needed for the buyer. The parties to the agreement sign the Nevada Mobile Home Bill of Sale in the presence of a notary public. The purchaser verifies that the property taxes have been paid via contacting their local County Assessor's Office. After that, the certificate of title must be endorsed before it is submitted to the Manufactured Housing Division - the new homeowner has thirty days to file the papers.
The Nevada Mobile Home Bill of Sale contains the following information:
Price of the mobile home;
Name and mailing address of the buyer;
Description of the mobile home: make, model, year, serial number, size, and its physical location;
Lien information - name and address of the lienholder. If there are no liens and encumbrances at the time of the sale, write the word "none";
Signature of the seller and the date of the sale;
Notary public's seal, name, and signature. The document becomes valid once it receives notary acknowledgment.
Download Bill of Sale (Manufactured/Mobile Homes) - Nevada