Form OHV006 Off- Highway Vehicle Bill of Sale - Nevada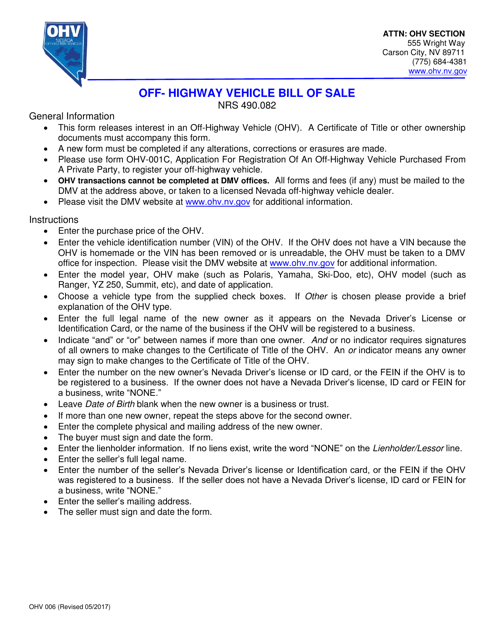 What Is the Nevada Off-Highway Vehicle Bill of Sale?
Form OHV 006, Off-Highway Vehicle Bill of Sale is a legal document that establishes the details of the legal sale and purchase of any off-highway vehicle (OHV). An off-highway vehicle is a vehicle specifically made for off-road use. Most of them can be driven on the road but their main purpose is to go where most vehicles cannot go, because they cannot perform in sand, mud, and snow. Off-highway vehicles include Jeeps, trucks, snowmobiles, all-terrain vehicles (ATVs), and some sport utility vehicles (SUVs).
Alternate Names:
Nevada Off-Road Bill of Sale;
Nevada Off-Highway Vehicle Bill of Sale.
This form was released by the Off-Highway Vehicle Commission of the Nevada Department of Conservation and Natural Resources. The latest version of the form was issued on May 1, 2017, with all previous editions obsolete. You can download a fillable Form OHV 006 through the link below.
Form VP104, Bill of Sale is a related document issued by the Nevada Department of Motor Vehicles. It is available for use in every sale and purchase of a vehicle that does not fall into the category of OHVs.
Nevada Off-Highway Vehicle Laws
You have to state the sum of money paid for the vehicle, identify the vehicle (submit its vehicle identification number, year, make, model, type, date of manufacture), provide personal details and addresses of the seller and the buyer, and certify liens, if there are any. Both parties sign and date the form.
OHVs must meet registration and safety requirements to be operated within Nevada:
All OHVs must be registered with the Nevada Department of Motor Vehicles. To register your OHV, you also need to fill out Form OHV 001C, Application for Registration of an Off-Highway Vehicle Purchased from a Private Party. You cannot visit the Department of Motor Vehicles office to submit documentation. Instead, it is required to send the bill of sale, application for registration, and proof of ownership to the OHV Unit, 555 Wright Way, Carson City, NV 89711. Registration is not needed if the vehicle was registered or certified in another state;
If a vehicle was designated for off-road use only, you cannot drive it on Nevada public highways or streets even if it has safety equipment. However, you may operate an OHV on public lands if it has a spark arrester, muffler, working headlights, and taillights;
Nevada does not have any driver license or minimum age requirements for OHVs operated off-road;
There is no need to ensure your off-highway vehicle in Nevada;
Helmets are obligatory for all riders and operators of OHVs when driving on a county, city, or town-maintained road.
Download Form OHV006 Off- Highway Vehicle Bill of Sale - Nevada