Form VP104 Bill of Sale - Nevada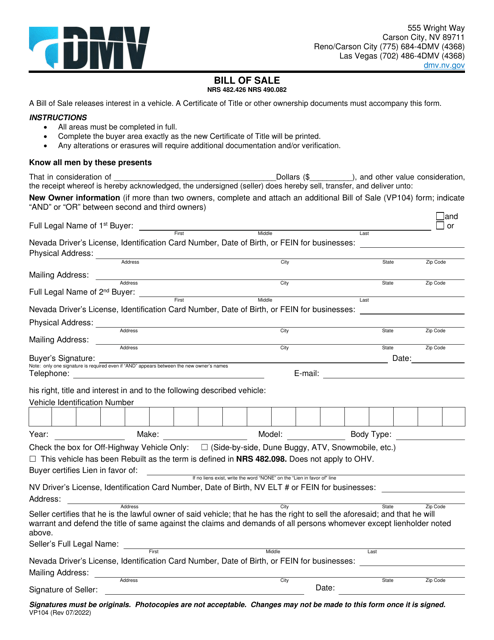 What Is Form VP104?
Form VP104, Bill of Sale, is a legal document that records the transfer of ownership of the motor vehicle located or soon-to-be-registered in Nevada. Since selling or buying a vehicle is a major financial investment for most people, a lot of preparation is required. A properly drafted Bill of Sale proves a legitimate transaction took place, the buyer becomes the legal owner of the vehicle, and the seller no longer bears responsibility for parking tickets and speeding if they are the new owner's fault.
Alternate Name:
Nevada Vehicle Bill of Sale.
This form was issued by the Nevada Department of Motor Vehicles. The latest version of the document was released on July 1, 2022, with all previous editions obsolete. You can download a fillable Form VP104 through the link below. The form can be used by individuals and entities alike.
Form OHV 006, Off-Highway Vehicle Bill of Sale, is a related document required when a vehicle intended for use on uneven or steep ground is being sold and purchased.
How to Fill Out Form VP104?
A Bill of Sale is not the only document needed to release interest in a vehicle - it must be accompanied by a certificate of title or some other documentation that proves ownership. You may need to sign the following papers:
When you complete the papers, make sure you fill out every box. The buyer details must correspond to the information from the certificate of title. If there are any erasures or alterations in the Bill of Sale, you may need to complete additional documentation or provide verification to avoid delays in processing.
Bill of Sale (Form VP104) records the sale price, new owner identification and location information, vehicle description (identification number, year, make, model), lien information, seller's personal details, signatures of both parties, and the actual date of the sale. After the papers are signed, the buyer retains the original document and is responsible for registering the vehicle within thirty days with the Division of Motor Vehicles. Form VP-222, Application for Vehicle Registration, must be completed and filed along with the aforementioned documentation.
Browse by Year
Download Form VP104 Bill of Sale - Nevada