DA Form 5587 Report of Drydocking, Painting and Condition of Vessel Bottom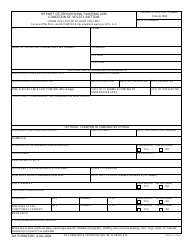 DA Form 5587 or the "Report Of Drydocking, Painting And Condition Of Vessel Bottom" is a Department of the Army-issued form used by and within the United States Military.
The form - often incorrectly referred to as the DD form 5587 - was last revised on August 1, 2004. Download an up-to-date fillable DA Form 5587 down below in PDF-format or look it up on the Army Publishing Directorate website.
REPORTS CONTROL SYMBOL
REPORT OF DRYDOCKING, PAINTING AND
CSGLD-1943
CONDITION OF VESSEL BOTTOM
DATE
(YYYYMMDD)
(FROM KEEL TO TOP OF BOOT TOP LINE)
For use of this form, see DA PAM 750-8; the proponent agency is DCS, G-4.
TO:
FROM:
NAME OF VESSEL/HULL NUMBER/DESIGN NUMBER
COMMAND:
STATION:
LOCATION:
SECTION I - DRYDOCKING AND PAINTING DATA
LOCATION OF PRESENT DD OR HAUL OUT
CONTRACTOR'S NAME
LOCATION LAST DD OR HAUL OUT
DATE OF LAST DD
DATE OF PRESENT DD
DATE REFLOATED
TIME ELAPSED SINCE LAST PAINTING (Mos & Days)
COST OF CLEANING & PAINTING OF
COST OF PRESENT DD
UNDERWATER AREA
STATE FULLY CONDITION OF THE UNDERWATER HULL PLATES
SECTION II - CONDITION OF UNDERWATER FITTINGS
OUTBOARD SHAFTING AND SLEEVES
SIZE OF SHAFT
DATE TAIL SHAFT LAST DRAWN
RUDDER(S)
RUDDERS PINTLE BEARINGS AND GUDGEONS
RENEWED AT THIS DOCKING
YES
NO
PROPELLERS
SIZE & PITCH
PROPELLERS STRUTS
OUTBOARD STERN BEARING(S) AT DOCKING
PRIOR TO FLOATING
HOW MUCH WEAR (Thousandths of an inch)
DATE LAST CUTLASS RUBBER RENEWED
(YYYYMMDD)
SEA STRAINERS
RENEWED AT THE DOCKING
YES
NO
SEA CHESTS AND VALVES
HULL ZINCS
SIZE
NUMBER
TYPE
RENEWED AT THE DOCKING
YES
NO
SIZE
NUMBER
TYPE
RENEWED AT THE DOCKING
ZINC BARS AT SEA
CHESTS/KEEL COOLERS
YES
NO
BILGE KEELS
STERN FRAME/SKEG/KORT NOZZLE
Where two or more shafts are fitted, report separately the condition of propellers, shafting, stern and strut bearings, zincs, rings, struts, etc. Indicate
starboard (S) or port (P) as applicable.
DA FORM 5587-R EDITION OF NOV 86, IS OBSOLETE.
APD LC v1.01ES
DA FORM 5587, AUG 2004
Download DA Form 5587 Report of Drydocking, Painting and Condition of Vessel Bottom