DA Form 4886 Issue-In-kind - Personal Clothing Record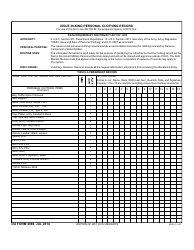 What Is DA Form 4886?
DA Form 4886, Issue-In-Kind - Personal Clothing Record is a form used to record the clothing provided to U.S. Army personnel. The Army personal clothing record form allows keeping track of all issued items until they are turned-in or allowed to be retained.
The latest version of the form - sometimes incorrectly referred to as the DD Form 4886 - was released by the Department of the Army in July 2014. An up-to-date DA Form 4886 fillable version is available for digital filing and download below or can be found through the Army Publishing Directorate website.
Enlisted soldiers receive their clothing at the beginning of active duty, soldiers of the Reserve Components receive clothing during initial active duty for training. When the soldier is discharged or separated from active duty, they either return the items or keep them, if the items are non-recoverable. Non-recoverable items include underwear and footwear.
ISSUE-IN-KIND-PERSONAL CLOTHING RECORD
For use of this form, see AR 700-84; the proponent agency is DCS, G-4
DATA REQUIRED BY THE PRIVACY ACT OF 1974
5 U.S.C. Section 301, Department Regulations; 10 U.S.C. Section 3013, Secretary of the Army; Army Regulation
AUTHORITY:
700-84, Issue and Sale of Personal Clothing; and E.O. 9397 as amended.
The issue-in-kind personal clothing records provide an accountable document for clothing received by Reserve
PRINCIPAL PURPOSE:
Component enlisted Soldier.
The information furnished is used solely for the purpose of identifying the individual so that the clothing record will be
ROUTINE USES:
filed in the correct Military Personnel Records Jacket and will not be shared with agencies outside of DoD. The DoD
Blanket Routine Uses that appear at the beginning of the Army's compilation of systems of records may apply to
this system.
Voluntary. However, failure to provide all the request information will prevent from receiving the allocated clothing.
DISCLOSURE:
THIS IS A PERMANENT RECORD
NAME (Last, First, MI) GRADE AND SSN (Last four)
INSTRUCTIONS:
Entries in ink: Name, Rank, SSN (Last four), Quantity, Date, and Signature.
Columns 1 thru 15 are used for recording consecutive clothing inventories.
PERSONAL CLOTHING ITEMS
1
2
3
4
5
6
7
8
9
10
11
12
13
14
15
(Common)
1
Bag, Duffle Nylon Improved
Belt, Riggers
1
Beret, Wool Black Shade 1593
1
Boot, Combat, HW, Tan
OR
1
Boot, Combat, TW, Type II, Tan
1
2
Cap, Patrol, Army Combat Uniform
Cap, Synthetic Micro Fleece
1
4
Coat, Army Combat Uniform
Gloves, Light Duty Utility
1
2
Gloves, Inserts, Cold, Foliage
Gloves, Leather, Black, Unisex
1
Jacket, PFU
1
Pants, PFU
1
Shirt, L/S, PFU
1
2
Shirt, S/S, PFU
7
Sock, Boot
7
Sock, Liner, Poly/Nylon, Black
4
Trousers, Army Combat Uniform
2
Trunks, PFU
7
T-Shirt, Moisture-Wick
EDITION OF MAY 93 IS OBSOLETE
DA FORM 4886, JUL 2014
APD LC v1.01
How to Fill Out DA Form 4886?
The form may be filed digitally, but some items need to be completed with an ink pen. This includes the name, rank and the last four digits of soldiers SSN. DA Form 4886 instructions are as follows:
Indicate the size of each item, if applicable. Enter information on consecutive clothing inventories in Columns 1 through 15. If the issued item is not listed in the form it should be indicated in the empty lines provided at the bottom of the list.
Any additional information should be listed in the REMARKS section.
Each issue has to be followed by the date and signature at the bottom of the form. The decision whether the soldier will need to return the items or will be able to keep them depends on the duration of their service and the conditions of discharge.

If the servicemember is discharged from active duty under honorable conditions after more than three years of service they may retain all items in their possession. The unit commander has to determine the turn-in of the recoverable items.
If the servicemember is discharged under honorable conditions and served three years or less of active duty are permitted to retain all clothing items.
Personnel with six months or less of active duty service with an honorable, general, or other than honorable discharge may retain one ASU and component items.

An overview of the form, filing guidelines and a DA Form 4886 example can be found in the Army Regulation 700–84, Issue and Sale of Personal Clothing, released in July 2014.