DA Form 3433-1 Supplemental Employment Application Form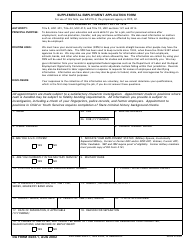 What is a DA Form 3433-1?
DA Form 3433-1, Supplemental Employment Application Form is a document filed by service members selected for nonappropiated fund employment. The form is a necessary addition to the application and provides a history of previous education, an overview of skills and work experience as well as other data that might later affect promotions, transfers, and leave entitlements.
The form also provides the employer with the applicant's citizenship status and military service history to determine whether they are affected by any law or legal procedure applicable to the particular workplace.
The Department of the Army (DA) released the latest version of the DA 3433-1 in August 2002 - all previous editions are obsolete and may not be used. A copy of the DA Form 3433-1 is available for download through the United States Army Publishing Directorate website or down below.
SUPPLEMENTAL EMPLOYMENT APPLICATION FORM
For use of this form, see AR 215-3; the proponent agency is DCS, G1.
DATA REQUIRED BY THE PRIVACY ACT OF 1974
Title 5, USC 301, Title 42, USC 410, and Title 10, USC sections 121 and 3013.
AUTHORITY:
PRINCIPAL PURPOSE:
To determine how well your education and work skills fit you for a job, and for personnel actions after
employment, such as promotion, transfer, and pay and leave entitlements. We also need information on matters
such as citizenship and military service to see whether you are affected by laws we must follow in deciding who
may be employed.
ROUTINE USES:
We must have your social security number (SSN) to keep your records straight because other people may have the
same name and birth date. The SSN has been used to keep records since 1943, when Executive Order 9397 asked
agencies to do so. We may also use your SSN to make requests for information about you from employers,
schools, banks, and other who know you, but only where allowed by law. The information we collect by using your
SSN will be used for employment purposes, and also for studies and statistics that will not identify you. We may
give information from your records to appropriated federal agencies such as the Department of Labor and the Equal
Employment Opportunity Commission, to resolve and/or adjudicate matters falling within their jurisdiction. Records
may also be disclosed to labor organizations in response to requests for names of employees and identifying
information. Information we have about you may also be given to federal, state, and local agencies for checking on
law violations or other lawful purposes.
DISCLOSURE:
Your responses to the collection of this information are voluntary, but we cannot determine your qualifications,
which is the first step toward getting the job, if you do not answer these questions.
All appointments are made subject to a satisfactory character investigation. Appointment made to positions where
cash is handled may be subject to fidelity bonding requirements. All information you provide is subject to
investigation, including a check of your fingerprints, police records, and former employers. Appointment to
positions in Child or Youth Services requires completion of State criminal history background checks.
1. NAME
2a. SSN
3. MAILING ADDRESS
2b. DOB (YYYYMMDD)
4. E-MAIL ADDRESS
5. CURRENT ANNUAL SALARY
6. ARE YOU A U.S. CITIZEN?
7. INDICATE YOUR EMPLOYMENT STATUS (Military Spouse, Involuntarily
Separated Military, Current or Former NAF and/or DOD APF, Veteran, Current APF,
Other Candidate. SEP and ISM require proof of eligibility. Former military members
YES
NO
must provide copy of DD Form 214.)
8. ARE YOU CURRENTLY IN THE MILITARY SERVICE?
9. MILITARY RANK
YES
NO
10. POSITION APPLIED FOR AND ANNOUNCEMENT NUMBER
11. LOWEST ACCEPTABLE ANNUAL SALARY
12. IF PRESENTLY EMPLOYED, LIST JOB TITLE,
13. AGENCY, INSTALLATION, ACTIVITY
SERIES, GRADE/PAY BAND LEVEL
14. HIGHEST GRADE, LEVEL HELD
15. LENGTH OF TIME (Years, Months)
16. TYPE OF APPOINTMENT
17. DATE OF SEPARATION, IF APPLICABLE
18. REASON FOR SEPARATION
(YYYYMMDD)
19. IF CURRENTLY EMPLOYED, MAY INQUIRY BE MADE OF YOUR PRESENT EMPLOYER REGARDING YOUR CHARACTER,
QUALIFICATIONS, AND RECORD OF EMPLOYMENT?
YES
NO
DA FORM 3343-1, JAN 2002, IS OBSOLETE.
DA FORM 3433-1, AUG 2002
USAPA V2.00ES
DA 3433-1 Form Instructions
Fill in all basic identifying information: your name, date of birth, social security number, e-mail, and mailing address. Specify your current annual salary in Box 5.
Check the option that describes your citizenship status in Box 6.
Identify your current employment status in Box 7 and your military status in Box 8.
Boxes 10 and 11 describe the position you are currently applying to and the lowest acceptable salary you are willing to agree on.
If you currently are or previously were working in NAF or AF positions, fill in Boxes 12 to 18.
Indicate if it's possible to contact your previous employer for references in Box 19. List any two people not related to you in Box 20 for the same purpose.
Boxes 21 through 24 are voluntary. The applicant selected for the job will undergo a full background check to certify any information entered in this section of the DA 3433-1.
Sign and date the form in Boxes 25 and 26.
DA 3433-1 Related Forms
The Non-appropriated Fund (NAF) employment packet consists of three forms in total: the DA form 3433, the DA Form 3433-1 and the DA Form 3433-2.
The DA Form 3433 (Optional Application for Nonappropriated Fund Employment) is used instead of a resume by members of the military applying for NAF positions.
The DA Form 3433-2 (Supplemental A - Employment Application Form for Child-Youth Services Positions) is filed by all servicemen and women applying for positions that involve working with children.