DA Form 2339 Application for Voluntary Retirement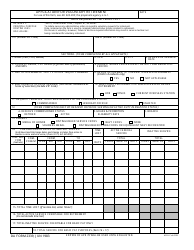 What Is DA Form 2339?
DA Form 2339, Application for Voluntary Retirement is a form used to start the necessary administrative action on voluntary requests of retirement. The retirement procedure includes a medical examination of the applicant and a review of the application, that should be submitted at least nine months before the desired retirement date.
The latest version of the form - sometimes confused with the DD Form 2339, International Military Student Information - was released by the Department of the Army (DA) in June 1983. An up-to-date DA Form 2339 fillable version is available for digital filing and download below or can be found through the Army Publishing Directorate website.
DATE
APPLICATION FOR VOLUNTARY RETIREMENT
For use of this form, see AR 635-200; the proponent agency is G-1.
DATA REQUIRED BY THE PRIVACY ACT
AUTHORITY:
Title 10, United States Code, Chapters 61, 63 and 67.
PRINCIPAL PURPOSE:
To initiate necessary administrative action in regard to voluntary requests for retirement.
ROUTINE USES:
Data contained on the form is used to complete administrative actions incident to retirement.
DISCLOSURE:
Disclosure is voluntary. However, failure to disclose required information may result in service member not
being considered for voluntary retirement.
TO: (Include ZIP Code)
THRU: (Include ZIP Code)
SECTION I - (TO BE COMPLETED BY ALL APPLICANTS)
1. NAME (Last, First, Middle)
2. SSN
3. ETS
4. DESIRED RETIREMENT
DATE
5. CURRENT GRADE, PAY GRADE, (Effective date of promotion)
6. HIGHEST GRADE SERVED ON ACTIVE DUTY AND BRANCH OF
AND MOS
SERVICE
7. UNIT OF ASSIGNMENT - DUTY STATION - MAJOR COMMAND
8. DESIRE RETIREMENT AT CURRENT OVERSEA ASSIGNMENT
(CONUS Residents only)
YES
NO
NOT APPLICABLE
9. MAIL ADDRESS UPON RETIREMENT (Will not be considered as
10. NON-CONUS PERSONNEL STATIONED OVERSEAS DESIRE
home of selection) (Include ZIP Code)
RETIREMENT
HOR
CONUS
CURRENT OVERSEAS STATION
11. REQUEST TRANSFER TO RETIRED RESERVE IN THE FOLLOWING STATUS
COMMISSIONED
WARRANT OFFICER
ENLISTED
12.
(TO BE COMPLETED ONLY BY RESERVE OFFICERS SERVING ON ACTIVE DUTY IN ENLISTED STATUS)
a. RESERVE COMMISSIONED STATUS
b. GRADE & PROMOTION
c. BRANCH
ELIGIBILITY DATE
RETIRED
ACTIVE
13. AWARDS
DISTINGUISHED SERVICE CROSS
MEDAL OF HONOR
NAVY CROSS
NONE
SOLDIERS MEDAL
DISTINGUISHED FLYING CROSS OR EQUIVALENT NAVY DECORATION
14.
CHRONOLOGICAL DATES OF MILITARY SERVICE
TIME
ACTIVE FEDERAL
INACTIVE SERVICE
(Enlistment and Discharge dates and change in status from active to
LOST
SERVICE
inactive service and vice versa.) (Para 12-13, AR 635-200)
ENL. WO.
FROM
TO
TOTAL
TOTAL
COM-
COM
PONENT
YEAR
MO
DAY
YEAR
MO
DAY
YEARS
MONTHS
DAYS
YEARS
MONTHS
DAYS
DAYS
(Indicate)
15. TOTAL TIME LOST (If no time lost, enter "None")
16. TOTAL ACTIVE SERVICE CREDITABLE FOR RETIREMENT
(Do not include time lost)
17. TOTAL INACTIVE SERVICE CREDITABLE FOR BASIC PAY ONLY
18. TOTAL SERVICE FOR BASIC PAY PURPOSES (Item 16 + 17)
EDITION OF APR 78 WILL BE USED UNTIL EXHAUSTED.
APD LC v4.02ES
DA FORM 2339, JUN 1983
How to Fill out DA Form 2339?
An overview of the form and filing guidelines can be found in the Army Regulation 635-200, Active Duty Enlisted Administrative Separations, released in December 2016. DA Form 2339 instructions are as follows:
The first section of the form is completed by the applicant with the assistance of the officer having custody on the applicants' personnel records.
Blocks 1 to 11 are mandatory. First, the applicant has to provide their full name, SSN, ETS, and desired retirement date. Then the form requires their current grade, pay grade and MOS and their highest grade on the AD with their branch of service. The applicant has to provide their unit of assignment, duty station, and major command. CONUS residents should fill Block 8 if they desire retirement at their current overseas assignment. Non-CONUS residents should fill Block 10 if they desire oversea retirement. The form also requires the applicants mailing address upon retirement and their transfer request status.
Blocks 12 to 19 are completed only by Reserve officers serving on the AD in Enlisted status. They should state their reserve commission status, grade and promotion eligibility date and branch of service. All awards received should be listed in Block 13. Block 14 is designed as a table with four main columns: the chronological dates of military service, time lost in days, active federal service and inactive service. Blocks 15 through 18 are for submitting total active service or inactive service to state the eligibility for retirement, basic pay or basic pay purposes. Block 19 is for stating readiness to retire at a CONUS location of choice.
Section II consists of 11 blocks and is filed by the applicants' personnel officer. They must approve or disapprove the application, verify whether the applicant decided to proceed with a request or elimination, state the dates of arrival at the current assignment or overseas command, the receipt of the alert and the notification of unit alert.
The applicant has to read all conditions listed in Block 30 and sign the form. Any additional information should be listed in Block 31. If the provided space is not enough a continuation sheet may be added to the form. The commander should provide their full name and signature for the DA 2339 to be complete.