VA Form 21-526B Veteran's Supplemental Claim for Compensation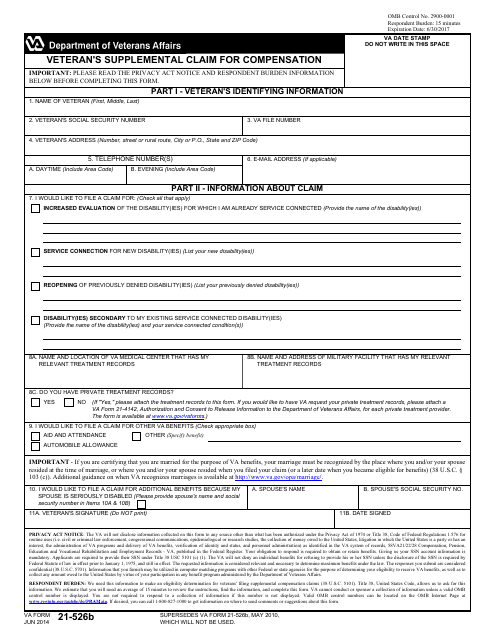 What Is VA Form 21-526B?
VA Form 21-526B, Veteran's Supplemental Claim for Compensation, is a multi-purpose form used for providing information to the U.S. Department of Veterans Affairs (VA). The latest version of the form was released on June 1, 2014, with all previous editions obsolete. A VA Form 21-526B fillable version is available for download through the link below.
What Is VA Form 21-526B Used For?
VA Form 21-526B is a one-page form, used in conjunction with other claim forms, the so-called original claims. These forms belong to the VA Form 21-526 Series, which also includes:
VA Form 21-526, Veterans Application for Compensation and/or Pension (used for applying for compensation and pension benefits).
VA Form 21-526C, Pre-Discharge Compensation Claim (used for filing a pre-discharged claim). Pre-discharged claims are filed in advance, while a service member is on active duty.
VA Form 21-526EZ, Application for Disability Compensation and Related Compensation Benefits (used for filing a rating-related original, secondary, or increased disability service-connected claim for life compensation).
Original claims are the first formal claims, after it is filed and the VA Rating Officer has made a decision on it, the claim should be referred to as reopened claim. All further claims should be filed using VA Form 21-526B. This form can be used to reopen an original claim that was previously denied. The claim form can also be used to claim for aid and assistance, for a one-time automobile allowance, and for new non-original claims.
How to Fill Out VA Form 21-526B?
The claim form is distributed without any VA-provided filling guidelines. Step-by-step VA Form 21-526B instructions are as follows:
Part I ("Veteran's Identifying Information") requires your full name, Social Security Number (SSN), VA file number, full address (with ZIP code), daytime and evening phone numbers (with area codes), and email address.
Part II ("Information About the Claim") requires the following information:

Check and explain an applicable option in Box 7. Increased evaluation of the already service-connected disability requires the name of the disability. The new service-connected disability option requires a brief description of the disability. Reopening of the previously denied disability should contain the list of denied disabilities. The secondary to the service-connected disabilities option should contain the list of such disabilities and service-connected conditions.
Provide the name and location of the medical or medical military facility that holds your medical records the Boxes 8A and 8B. If you have the records, attach them to the form and indicate this in Box 8C.
If you would like the VA to request your private medical records, file VA Form 21-4142, Authorization To Disclose Information to the Department of Veterans Affairs (VA), and attach it to VA Form 21-526B. If you would like to file a claim for aid and attendance, automobile allowance, or other claims, indicate this in Box 9. This part should also contain the name and the location of the medical or military facility that keeps your medical records. If you have the records, attach them to the form. If you wish to file a secondary claim for your disabled spouse, indicated this in Box 10 and provide your spouse's name and social security number in Boxes 10a and 10b.
Sign and date the form in Boxes 11a and 11b.
Where to Send VA Form 21-526B?
There are three options to submit VA Form 21-526B. The claim can be filed online using the VA website. The form can be printed out, completed manually, and mailed to the nearest claims intake center. The form can be also filed electronically and emailed to the VA with other necessary papers.
The claimant can also contact an accredited Veterans Service Organization and receive assistance in filing their claim. VSOs are private non-profit groups that advocate on behalf of veterans, service members, dependents, and survivors. Accredited representatives may also work for the state or county government entities. Recognized organizations and individuals, whether congressionally chartered VSOs or VA accredited claims agents or attorneys, can legally represent a Veteran before the VA.
Download VA Form 21-526B Veteran's Supplemental Claim for Compensation