VA Form 21-526 Veteran's Application for Compensation and/or Pension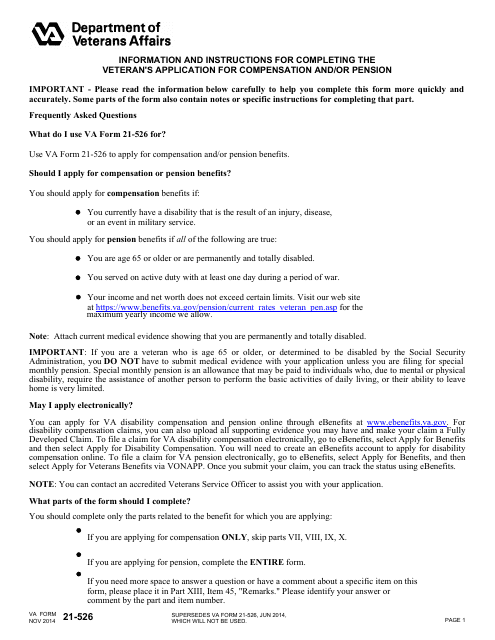 What Is VA Form 21-526?
VA Form 21-526, Veterans Application for Compensation and/or Pension is a form filed by veterans who currently have a disability that was caused by an injury, disease, or an event in military service and wish to apply for compensation or pension benefits. The latest edition of the application was released by the Department of Veterans Affairs (VA) on November 1, 2014. An up-to-date VA Form 21-526 fillable version is available for digital filing and download below. Alternatively, it can be found through the VA website.
If you are a veteran, you may elect a county or national Veterans' Service Organization (VSO) representative to help you with your application. Depending on the type of designated representative, the VA will send you one of the following forms:
What Is VA Form 21-526 Used For?
The form is used as an application to request compensation or pension benefits from the VA.
All veterans with a service-related disability are eligible to apply for VA compensation benefits. A veteran is eligible to apply for a VA pension if they are 65 years of age or older, have a total and permanent disability and were on active duty for at least a single day during a period of war. The income of applicants must not exceed certain limits prescribed by the VA.
How to Fill Out VA Form 21-526?
The form is distributed with filing guidelines and FAQ provided on the first pages of the form. Step-by-step instructions for the VA Form 21-526 can be found below.
VA Form 21-526 Instructions
All sections of the form must be filled out in order to apply for a pension. When applying for compensation benefits parts VII, VIII, IX, X should be skipped.
Part I requires information about the veteran and the type of benefit they are applying for. The required personal information includes the Veteran's full name, Social Security Number (SSN), VA file number, the date and place of birth, gender and their spouse's SSN - if applicable. This part should also contain the veteran's mailing address, phone number, and email address. If there were any VA 21-526 forms submitted previously, this should also be reflected in Part I;
Part II is for information about the nature and history of the veteran's service-related disability. The required information includes when the disability has first manifested, the treatment received and the main cause of the condition;
Part III, Information about Active Duty. This part requires information on the time period of service, service number, date of separation from the service, branch of service, organization, grade, and rank;
Part IV, Reserve, and National Guard service information. This part requires specifying whether the cause of disability occurred during active duty or training. If the applicant is a member of the Reserve or National Guard at the moment of filing the application, this should be reflected;
Part V, Information about retired pay or severance pay. Enter the veteran's retired status and their desire to receive VA compensation in lieu of military retired pay;
Part VI, Information about the veteran's spouse and dependents;
Part VII, Information about a requested non-service-connected pension;
Part VIII, Income information. This part contains a table for income data and requires information about an income received from renting property or any business operation for the last 12 months, income from the operation of a farm for the last 12 months and the possibility of a change in income;
Part IX, Veteran's net worth information. Part X, Information about any recurring medical, legal, or other expenses. Part XI, Direct deposit data.
Part XII, Certification, authorization, and signatures of the veteran and representative. Additional remarks must be provided in Part XIII.
---
VA 21-526 Related Forms:
Download VA Form 21-526 Veteran's Application for Compensation and/or Pension
Video Instructions for VA Form 21-526