SBA Form 2413 Women Owned Small Business (WOSB) Program Certification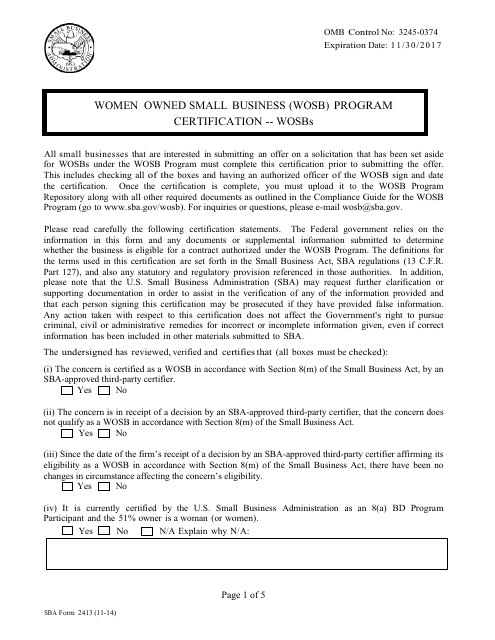 What Is SBA Form 2413?
SBA Form 2413, Women-Owned Small Business (WOSB) Program Certification - WOSBs is a part of a series of forms necessary for submitting an offer of solicitation under the Small Business Administration (SBA) WOSB Program. The information collected through the form is used by the Federal Government to determine the eligibility of a small business for a contract authorized under the WOSB Program.
SBA released the latest edition of the form on November 1, 2014. An up-to-date SBA Form 2413 fillable version is available for digital filing and download below.
SBA Form 2414 (Women-Owned Small Business (WOSB) Program Certification - Economically Disadvantaged or EDWOSB) is a related form required for registering a small business as being owned by an economically disadvantaged woman or women. The EDWOSB certification allows small businesses to be eligible to compete for Federal contracts in the EDWOSB Program. All certified EDWOSBs are considered to be automatically qualified as WOSBs.
WOSB Certification (SBA Form 2413)
The WOSB Certification Form contains a series of questions that must be answered in full for the form to be accepted. Each N/A answer should be explained in the provided spaces. The completed SBA 2413 must be signed and dated by an authorized SBA officer and uploaded to the WOSB Program Repository along with the birth certificate, naturalization paper or unexpired passport of the woman owner and other necessary documents. These include:
For all corporations:

Articles of incorporation;
By-laws;
Stock certificates;
Stock ledger;
Voting agreements, if any;
A DBA name certificate, if applicable;
A joint venture agreement, if applicable.

For all LLCs:

Articles of organization;
An operating agreement.

For all partnerships:
For all sole Proprietorships:
To support women-owned businesses, the Government limits competition for contracts for industries where WOSB are underrepresented to only those that are a part of the WOSB Federal Contract Program. To be considered eligible, the businesses must:
Be qualified as a small business.
At least 51% of the business must be owned and controlled by women that are U.S. citizens.
Women have to manage the business's day-to-day operations.
To participate in this program, the business has to be certified as a women-owned small business. This can be done by self-certification or by third-party certification.
Self-certification is free and requires the applicant to take the following steps:
Register the business in the System for Award Management (SAM).
Log into a GLS (General Login System) account.
Upload the necessary documents to the program repository.
None of the documents uploaded to the repository can be deleted. Double-check all papers and forms thoroughly before uploading.
Third-party certification can be obtained through SBA-approved organizations only. These include:
The Women's Business Enterprise National Council;
The El Paso Hispanic Chamber of Commerce;
The U.S. Women's Chamber of Commerce;
The National Women Business Owners Corporation.
Download SBA Form 2413 Women Owned Small Business (WOSB) Program Certification