Form MV-015 Bill of Sale to a Motor Vehicle - Harris County, Texas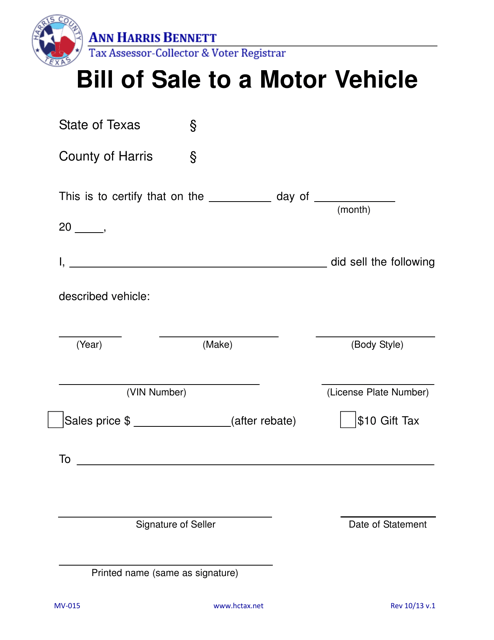 What Is Form MV-015?
Form MV-015, Bill of Sale to a Motor Vehicle, is a legal document used in Harris County, Texas when an individual wants to transfer ownership of their motor vehicle to another person. The purpose of the document is to record the selling of a vehicle and to provide information about the individuals who participated in the deal and the vehicle.
Alternate Name:
Harris County Vehicle Bill of Sale.
The latest fillable Form MV-015 was issued on by the Harris County Tac Office and is only applicable in this region. After a vehicle dealer or an individual has filled in the document they are supposed to submit it to the Tax Assessor-Collector at the Harris County Tax Office. A fillable Harris County Vehicle Bill of Sale template is available for download below.
Harris County Vehicle Bill of Sale Instructions
Completing a Harris County Bill of Sale is a straightforward process, the main purpose of the document is to describe the sale that took place and underline its main aspects. It is only one page long so it will not take much time to fill out. To complete the form, the seller needs to complete:
Information About The Seller. In this part of the document, the seller should designate their full name, which is needed for identification purposes;
Information About The Buyer. Here the seller can state the full name of the buyer;
Motor Vehicle Information. The seller should use this part of the document to state information about the vehicle, such as its year and make, VIN number, body style, and license plate number.
The Sale's Date And The Price. The date when the sale took place and the sales price can also be included in the document. If the motor vehicle is being gifted to a family member, then the seller can indicate whether the $10 Gift Tax can be applied to them. For a full list of relatives that can qualify for $10 Gift Tax you can visit the official website of the Texas Department of Motor Vehicles;
Signature And Date of Statements. In the last part of the document, the seller should sign it and state the date when the statement has been completed. The signature will designate that the statement is made by the seller under their own free will and contains information that is true and valid.
Download Form MV-015 Bill of Sale to a Motor Vehicle - Harris County, Texas