Novation Agreement Template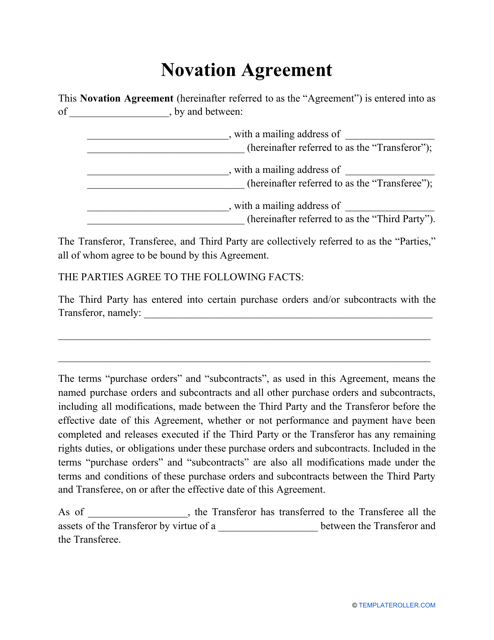 What Is a Novation Agreement?
When an agreement between two parties is transferred by one of the parties to a new person or group, a Novation Agreement must be written to confirm that both parties agree to the original stipulations. It will also transfer all the benefits and burdens of the original contract to the new party.
For example, a Novation Agreement can be used if a bank is bought out by a competitor and will need to update mortgage agreements that will now have the new bank as the lender. This will allow the bank to take ownership of the original agreement.
Download a printable Novation Agreement template through the link below or make your own agreement via our online form builder.
How to Write a Novation Agreement?
The Novation Agreement format implies the following information:
An opening statement with the date and names of each party who are agreeing to enter into the agreement.
Each statement renewing the terms and conditions should begin with the word, "whereas," to signify that the previous parties had agreed to the statement and the new parties will agree to maintain the original agreement. Be aware if you decide to amend the agreement this can trigger a legal response from the opposing party since the original agreement would be changed.
The date of the original agreement and the names of both parties, and signifying which party has since transferred their duties within the agreement.
How long the agreement was set for and if there was an option for renewal.
A statement that the new party will be undertaking all rights and responsibilities of the agreement and the original party that is leaving the agreement will retain no duty or liability from the agreement.
The new party agrees to maintain all aspects of the original agreement and acknowledges the decision to continue the agreement serves as a benefit to both parties of the agreement.
Include any state law that refers to a corporation's ability to enter into a Novation Agreement and that both parties agree that the laws pertain to the agreement being signed.
For the final statement, you will want to begin with "Now, therefore," to signify the change in ownership from the original party to the new party in the agreement and any future renewals.
Include a final signature section with dates, titles, federal identification numbers, and space for notarization if necessary.
---
Check out these related forms and templates:
Download Novation Agreement Template