Form AF-102 Small Estate Affidavit for Collection of Personal Property - Maine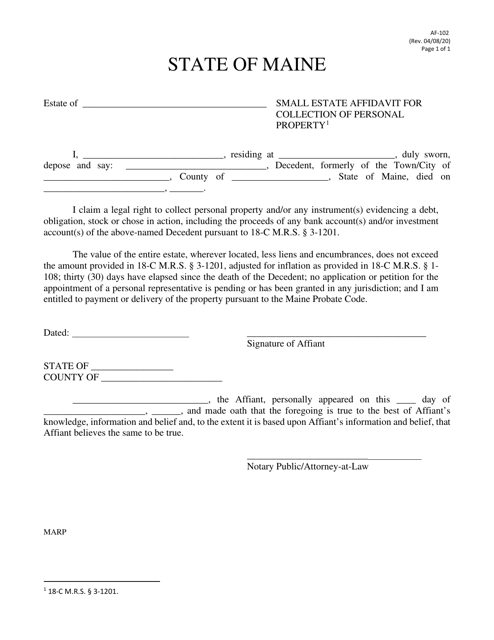 Maine Small Estate Affidavit Form: What Is It?
A Maine Small Estate Affidavit is a written instrument prepared by an individual who wants to distribute assets, tangible and intangible property, of the individual that has died and left no instructions regarding their possessions if the estate is small enough.
Alternate Names:
Form AF-102;
Small Estate Affidavit for Collection of Personal Property.
Whether you are an heir in the traditional sense of the word even though there is no will in place or you are entitled to receive the property the person owned in life, you need to figure out whether the value of the estate adheres to the local laws and you are able to skip the usual probate proceedings - you and other potential heirs may agree upon a swifter way to handle the inheritance.
A fillable Maine Small Estate Affidavit can be found below.
How to File a Small Estate Affidavit in Maine?
Follow these steps to complete and submit a Maine Small Estate Affidavit Form correctly:
Check the local regulations to ensure you comply with the requirements regarding the time period and signing instructions for the affidavit. At a minimum, you have to wait thirty days after the passing of the estate owner and sign the document in the presence of a notary public. Besides, the value of the estate must be $40.000 or less to qualify for the quick settlement and distribution.
Fill out the form. You will be asked to provide the name of the estate owner, record their last residential address and date of death, write down your own name and address, indicate you are entitled to collect the property that belonged to the person whose name you included in the affidavit, and certify your compliance with all the obligatory regulations. When the document is ready, wait before signing and dating it - the authenticity of the affidavit must be confirmed by the notary public whose notary seal is mandatory.
Bring a certified copy of the estate owner's death certificate and the affidavit in question to the local probate court. If the person did not leave a traditional will, you will need to pay a filing fee of $15 which is definitely less expensive than going through probate and spending more money and time trying to access the estate you believe you have a right to.
Download Form AF-102 Small Estate Affidavit for Collection of Personal Property - Maine