Customer Incident Report Form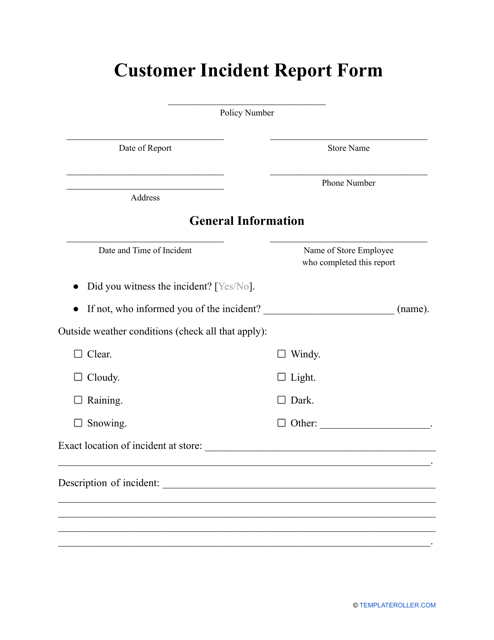 Customer Incident Report Form: What Is it?
A Customer Incident Report is a formal statement prepared to detail an injury of a client that has allegedly occurred on company property. Usually, this document is used whenever the events led to an injury of the person at the office or store of the company or as a consequence of them using products purchased from the business.
Alternate Name:
Customer Accident Report Form.
To protect yourself from potential lawsuits and improve your communication with the client base, you need to have protocols in place to be able to address the issue and prevent it from repeating in the future - the observations reflected in the report will let the business learn the lesson and avoid bigger expenses that would take place if no incident reporting process was established.
A Customer Incident Report template can be downloaded below.
Customer Accident Report Form: How to Make?
Here is how you should draft a Customer Incident Report Form:
State the date the report was composed, the name of the store or office, its location, and the contact details of the person responsible for creating this statement.
Describe the accident. Start with the following information: the date and time of the accident and the name of the supervisor or manager in charge of the premises at that moment. The person preparing the report needs to specify whether they were present at the time of the incident or they were told about it after the fact - name the individual that informed you about the situation.
Describe the weather conditions and the general environment surrounding the accident. Make sure the report contains the precise location of the accident which is crucial if you are dealing with a large building or commercial space.
If any of the goods or equipment were involved in the incident, keep the items safe for further inquiries and describe them in the form pointing out the manufacturer and their contact information.
Explain the condition of the scene after the incident. If you or anyone else took any pictures, it should be mentioned in the form - keep copies of the photographs with the report once it is done.
Include the information about the injured individual, their contact details, and the description of medical care they received after the incident took place. It is also important to describe what they were wearing at the time of injury and indicate the name of the hospital they went to.
List the names and telephone numbers of witnesses - if necessary, they may provide their own version of events in separate reports or help you draft this form.
There is no need to file a Customer Accident Report anywhere - simply keep it in the internal records of the company. However, in case the client in question requests you to share your remarks about the incident, you can provide them with the information from the document.
---
Still looking for a particular template? Take a look at the related forms below:
Download Customer Incident Report Form