Security Incident Report Template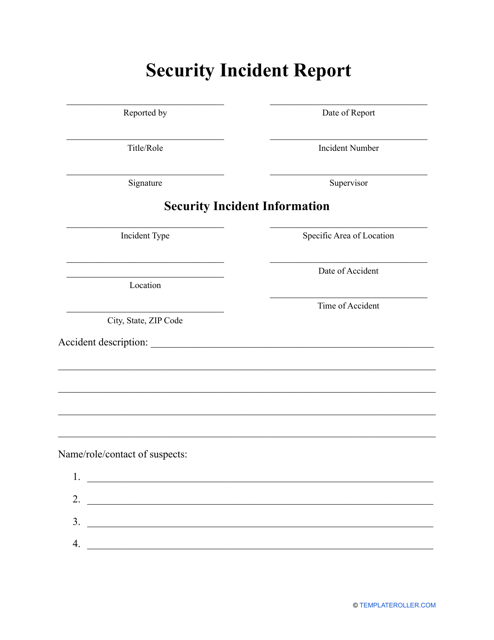 Fill PDF Online
Fill out online for free
without registration or credit card
Security Incident Report: What Is it?
A Security Incident Report is a written statement provided by a security officer after a security breach occurred.
Alternate Names:
Security Guard Incident Report;
Security Officer Incident Report.
Whether there were any injuries, the property the security guard was entrusted with was stolen or damaged, or there was just an attempt to gain access to the building, office, or warehouse, you need to collect the evidence of the event, starting with the individual that can give you the particulars of the incident. The purpose of this document is to record the details of the accident as soon as it happened or within a day while the recollections of the person that was present at the scene can give the employer or owner of the building a clearer picture of the events and to rethink the existing measures the company takes to secure its property.
A Security Incident Report template can be downloaded below.
How to Write a Security Incident Report?
Follow these steps to draft an effective Security Incident Report Form:
Indicate the date and location of the accident. Write down your own name and contact details - explain your position in the company and enter the times when your work shift started and ended.
Provide a description of the events. You may use several paragraphs to elaborate on the incident - be as clear as possible, draw schemes and graphs if you want to specify the precise spot where the incident occurred. You may also certify you or some other person that was at the scene contacted the police or called the ambulance if anyone required medical treatment and the breach was a crime.
List the names of people involved if you were able to identify them. You should also name all the people that were at the location of the accident with you highlighting individuals that were injured as a result of the incident - there may be separate reports required from them, for the internal use and to document a workplace injury.
If you have any remarks or recommendations regarding the security of the property you are protecting, you may record them in the form after listing the actions you immediately took to secure the premises to the best of your ability.
Once the form is completed, the security guard should give it to their supervisor, head of security, or the owner of the premises directly. Alternatively, if the organization rents commercial property, both the landlord and the tenant must be notified of the accident and review the report to implement new security measures protecting themselves in the long run.
Consider making a second report a few days after the accident and treating the first one as a supplemental document necessary to capture your initial impressions and thoughts about the events that took place. It is also possible a full report you prepare after talking to other witnesses is going to be more comprehensive helping the business to establish new security arrangements.
---
Still looking for a particular template? Take a look at the related templates below:
Download Security Incident Report Template