House Cleaning Checklist Template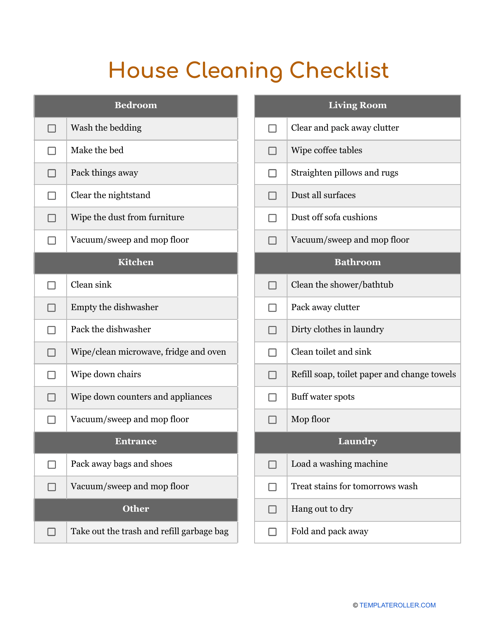 House Cleaning Checklist: What Is It?
A House Cleaning Checklist is a written document that outlines the upcoming cleaning of a residential property and indicates how often the appropriate level of cleanliness is maintained on the premises.
Alternate Name:
Whether you want to organize your personal life by managing chores as efficiently as possible or you represent a cleaning company and are looking for a streamlined way for your workers to render services, a checklist of this kind is indispensable for both private and professional accountability.
A House Cleaning Checklist template can be downloaded below.
How to Make a House Cleaning Checklist?
Here are some tips that will help you prepare a basic House Cleaning Checklist for your personal use or your business:
Consider making an electronic version of the checklist and keeping digital records whether you are cleaning your own apartment or dealing with dozens of customers. Either you will be able to keep track of chores you have done already without forgetting something important or your organization will benefit from precise bookkeeping and copies of invoices you send out to your client base.
It is advised to make a list of tasks and targets or draw a table that will be a visual instrument showing what you need to do. Besides, a list or table can include names of family members or roommates responsible for different rooms or types of chores whether you are handling everyday cleaning or are dealing with the spring cleaning which implies additional tasks for every individual occupying the space.
List different tasks and chores you are going to do daily, weekly, monthly, once a year, and once every few years. While there are obvious chores you should take care of every day like washing dishes, making your bed, and taking care of the general clutter in the common areas of the house, there are also tasks that can be done less often - depending, of course, on the cleanliness of the surfaces. For instance, you should clean sinks once a week, wash your windows and curtains once a month, vacuum mattresses once a year, and order professional cleaning of rugs and air ducts once every two years or so.
Individuals and businesses alike should insert small boxes that can be signed upon the completion of a certain task. If you are running out of time or certain chores are impossible to perform on schedule, you will have an unchecked box as a reminder for the nearest future.
A professional house cleaner should list cleaning supplies they use for their job and charge the client for their cost as well especially if this is a Deep Cleaning House Checklist. Once the cleaning is over, the people that rendered the service should sign underneath the checklist confirming the job is done and give a copy of the checklist to the client.
How Much Does House Cleaning Cost?
The average cost of cleaning will depend on the size of your room, apartment, or house. Besides, you should also take into account the location and quite often, the general untidiness of the place. It is possible the cleaning service will assess the house first and only then will give you their rates based on the impression they have got from the residence. In most cases, you should be ready to pay around $100-200. Before you sign a service contract with a business or freelancer, however, make sure you receive a breakdown of the services, the rates of the company or independent professional, and the cost of supplies and detergents used.
---
Haven't found the template you're looking for? Take a look at the related templates below:
Download House Cleaning Checklist Template