Computer Inventory Template - Empty Table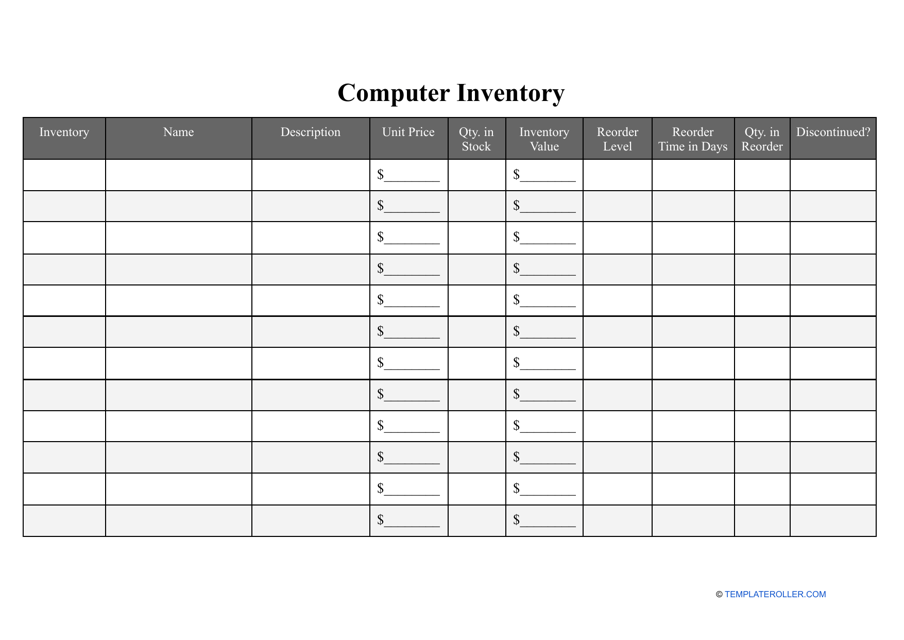 Fill PDF Online
Fill out online for free
without registration or credit card
Computer Inventory: What Is It?
A Computer Inventory may be required if you run an organization that requires specific computer hardware equipment. This Computer Hardware Inventory could be critical in maintaining a business store's inventory levels by making sure that they are balanced and that there is no deficit of product.
It plays a significant role in the day-to-day organizational activities of a company. Such systems will inform management of precisely what further stock remains on hand at a specific moment in time, the items that a company will have to restock, as well as which items a company will not need further.
The greatest way to effectively hold and record such information, while continuously keeping the management team informed is through the use of such inventories, and for this to be done successfully a business should develop an appropriate Computer Inventory System.
Depending on the type of business you have, you will need to decide on the best Computer Inventory format to ensure that all of the relevant information is recorded. This will significantly simplify your work further - the more detail you provide, the easier it will be to monitor stock supplies.
A Computer Inventory template can be downloaded by clicking the link below.
How to Inventory Computer Equipment?
If you are the manager of a business that has been tasked with this obligation, you must understand the importance of efficiently control your stock. A depletion of stock can cause serious harm to your business, reputation and relationships with clients.
Many businesses use specialist software to keep track of their stock, but these methods are frequently expensive which might appear entirely useless for a business that handles little stock. While using a spreadsheet to build your custom inventory management system is indeed an option, you still ought to keep in mind that you have all of the tools and expertise required on hand to run your inventory successfully:
As an alternative, you may make a straightforward spreadsheet that is easy enough to edit and personalize, allowing to maintain consistency. Bear in mind that the more additional information that you will provide in an inventory, the simpler it is to hunt computer equipment down. It will also help to understand where everything is;
Designate a specific individual (or groups of individuals) that will be responsible for keeping track of the stock supplies as well as the formation and maintenance of the inventory itself. If a business handles a substantial volume of computer equipment (particularly if there are lots of different types of that equipment) you should seriously consider hiring an individual on a permanent basis to fulfill this role. This is particularly true if the hardware you have is expensive;
When stock supply is performed without automated systems, you need to regularly check supplies personally (or have someone else do it) to prevent shortages and situations where incorrect hardware is purchased in excess. The frequency of this will depend on the nature of your business and the number of supplies that you hold.
By sticking to this, not only will you successfully maintain stock levels but it also makes it difficult for any potential employees to steal computer equipment.
---
Haven't found the template you're looking for? Take a look at the related templates below:
Download Computer Inventory Template - Empty Table