Referral Agreement Template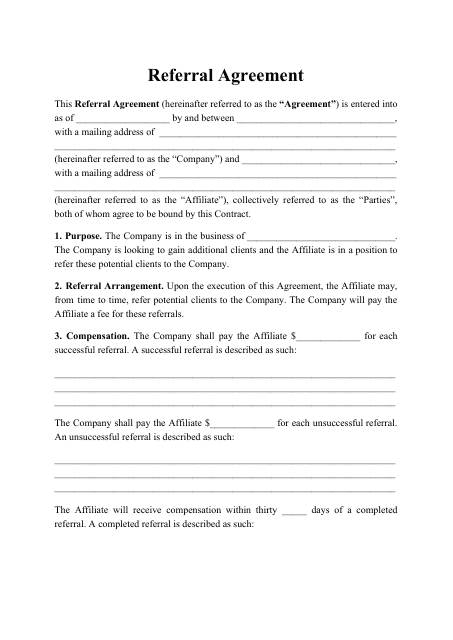 Fill PDF Online
Fill out online for free
without registration or credit card
What Is a Referral Agreement?
A Referral Agreement is a formal contract used by individuals and entities to refer prospective channels or clients to the other party, in exchange for compensation for the referral.
Alternate Name:
A referral works as a recommendation, or an act of providing information about a certain person, company, or goods. It is applicable across a wide variety of industries and allows to increase profits by entering into new Sales Contracts. Use this document if you:
Are seeking referral leads or clients from another party and wish to pay for those referrals with a fee.
Wish to refer clients for a certain fee.
You may compose your own personalized contract using our online form builder or download a non-fillable Referral Agreement template through the link below.
Essential Referral Agreement Clauses
A simple Referral Fee Agreement is used when people (referrers) have contacts and knowledge in a certain area and wish to be paid for making successful introductions (referrals) to other individuals or companies (referees). Often, a referrer will introduce a seller and purchaser of goods or services, real estate seller and buyer, or employer and future employee. Basically, referral fees are about rewarding experienced people for bringing in a customer - on an ongoing basis or as a one-time thing.
Make sure that your Referral Agreement contains the following clauses:
The names and addresses of the referee (recipient) and the referrer.
Purpose of the contract. Identify the business of the parties and their intentions. Set out in full detail how you want the referral to occur.
Compensation. State an amount of money the referrer is paid for each successful referral (for example, when a new client becomes a customer of the recipient). You may choose a percentage commission on the referrals or a specified sum of money. Increasing amounts based on the number of referrals made can be a great incentive to motivate a referrer.
Duration of the contract - it may be a short-term arrangement or a long-term contract.
Confidentiality and privacy. If the parties share trade secrets or industry knowledge, spell out their obligation to keep the information confidential.
Exclusivity. If you add this clause, it will prevent your referral partner from seeking similar arrangements with other companies or individuals. It is a tricky provision since it may restrict future business opportunities for some entities; however, some companies may benefit from entering into exclusive referral arrangements, so negotiate this clause with another party.
Additional terms and conditions. The parties may add a special termination clause, mention warranties or guarantees, and put their liability in writing.
Signatures of both parties. These indicate that the parties are to be legally bound by the provisions stated in the contract.
How Long Does a Referral Agreement Remain in Effect?
The agreement is considered ineffective on the termination date specified by the parties. Some agreements will have clauses regarding renewal terms and are automatically extended unless either of the parties sends out a notice of non-renewal. Either way, these specifics vary and are decided on by the participating parties.
A properly drafted Referral Contract will help you formalize a mutually beneficial business relationship with other individuals and companies. It encourages people to spread the message about the business. Once you establish referral fees, the referrer will generate clients, and thanks to the referrer's connections and expertise, you may discover new business opportunities you did not have access to before.
---
Want to find out more? Check out these related contracts and forms:
Download Referral Agreement Template