Form HSMV82993 Separate Odometer Disclosure Statement and Acknowledgment - Florida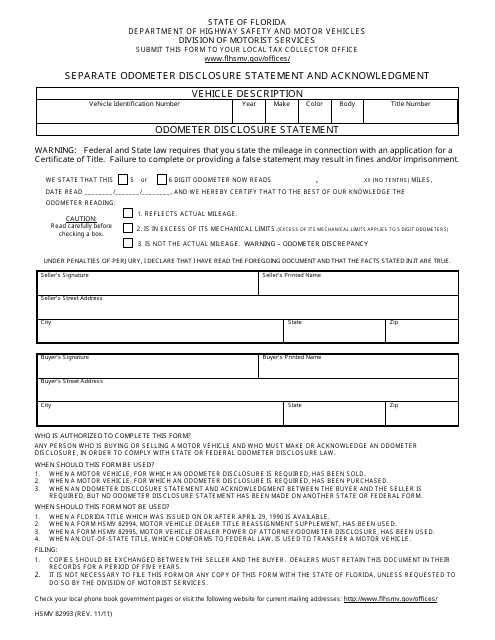 What Is Form HSMV 82993?
Form HSMV 82993, Separate Odometer Disclosure Statement and Acknowledgment, is a formal document prepared by Florida residents to state the mileage of any used motor vehicle in connection with the transfer of ownership. Any individual who sells or purchases a motor vehicle must comply with the law that requires to indicate the current odometer reading or confirm the mileage is not correct because it has reached the highest possible number, was broken, or had been replaced. Even if you do not know the mileage of your car, you must complete this form and state the facts known to you from the history report on your vehicle or the certificate of title. This prevents odometer fraud, and the buyer can be sure the vehicle is sold at the actual retail value. If no other official document filled out by the parties - for instance, a title issued in Florida after 1990, - contains an odometer disclosure, use HSMV 82993 Form to declare the mileage.
Alternate Name:
Florida Odometer Disclosure Statement.
This form was released by the Division of Motorist Services, a component of the Florida Department of Highway Safety and Motor Vehicles. The latest version of the document was issued on November 1, 2011, with all previous editions obsolete. A Form HSMV 82993 fillable version is available for download below.
Florida Odometer Disclosure Statement Instructions
Follow these steps to complete the HSMV 82993 Form:
Describe the vehicle - state its identification number, year, make, color, body type, and the number of the existing title.
Select the type of the odometer (5- or 6-digit), write down the current mileage of the vehicle, and indicate the date of the reading.
Confirm the reading reflects actual mileage, exceeds mechanical limits, or there is no actual mileage and you need to certify the odometer discrepancy. Often there is a blank display or the odometer has rolled over. Check one of the boxes that applies to your situation.
Certify the statements in the form are true and correct to the best of your knowledge.
Sign the form - while the odometer disclosure and proper description of the sold car remain the responsibility of the former owner, both parties need to sign the document - the purchaser shows they are aware of the current mileage or an existing discrepancy. Record your full names and addresses.
Once the document is filled out, submit it in person or by mail to the office of your local tax collector. Prepare a copy of the statement for the seller and the buyer of the car. If the seller is a dealer, they have a responsibility to keep this form in their records for five years in case of an audit or inspection. Note that you do not have to submit the Florida Odometer Disclosure Statement anywhere else unless you were specifically requested to do so.
---
Related Forms:
Download Form HSMV82993 Separate Odometer Disclosure Statement and Acknowledgment - Florida