Property Management Agreement Template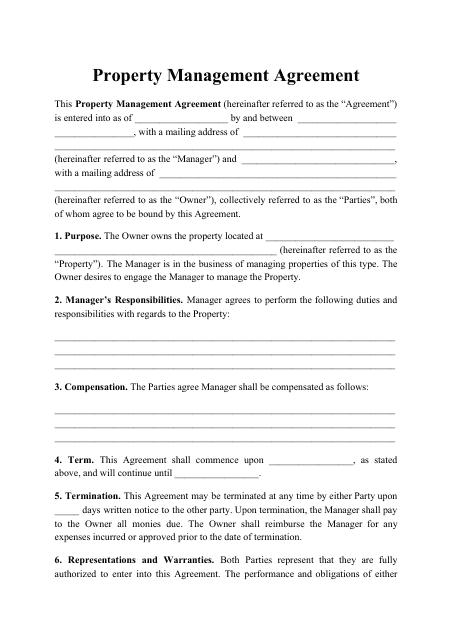 What Is a Property Management Agreement?
A Property Management Agreement is a contract between the owner of a property and a person hired as the manager of the property. It is used for the performance of property management and puts into detail the responsibilities that the property managers are accountable for. The tasks can vary depending on the type of property being managed. In addition to the duties of the manager of the property, a Property Management Agreement includes the responsibilities of the owner, information about payments, and insurance requirements.
You can download our Property Management Agreement template through the link below or create your own document with our online form-builder.
A related document - the On-Site Management Agreement - is a contract between the owner of the property and the on-site property manager. On-site property managers are responsible for the daily operation of a particular property, such as a block of flats, a shopping center, or an office building. They inspect the facilities to determine whether a repair is needed, meet with the current tenants, and make sure that they pay their rent on time.
How to Write a Property Management Agreement?
A Property Management Agreement will consist of the following sections:
Information about the owner of the property and the manager.
The location of the property and the duration of the contract.
​Responsibilities of the manager. Usually, the duties and responsibilities of the manager of the property are the following: collecting rent, managing building maintenance expenses, finding tenants, signing and renewing contracts.
Responsibilities of the owner. The owner should be responsible for the property information, access to the property, and payment operating account.
Payments. All fees and commissions of the manager and the term for which the contract is valid are also included in the contract.
Insurance. This part outlines information about the insurance of the property. An indemnification and liability section can also be included in this contract.
Termination. ​The agreement must include the possibility of termination of an existing agreement and indicate how many days notice to terminate Property Management Agreement must be given. The contract should specify the order of actions in case of termination. It should be indicated here when fees and compensations have to be paid, when the manager should transfer information about the current tenants to the owner, and provide expense documentation.
Signatures of the parties.
---
Related Forms and Topics:
Download Property Management Agreement Template