Free North Carolina Bill of Sale Forms and Templates
Do I Need a Bill of Sale in North Carolina?
A North Carolina Bill of Sale is a legal document filled out during the transfer of all types of property from vehicles to electronics in the state of North Carolina. It is legal evidence of the transfer of the described goods. It can also be used to prove the ownership of the property. If filled out properly, it is accepted by all government agencies and serves as reliable protection against fraudulent claims that may occur in the future for both the seller and the purchaser.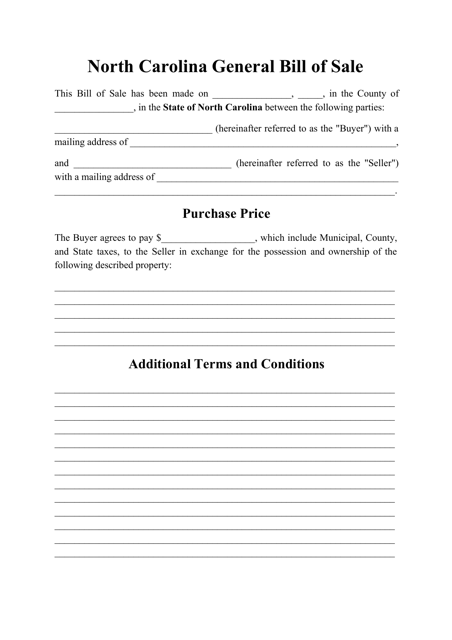 PDF
Download this Generic Bill of Sale to record the transfer of any kind of personal property from the seller to the buyer. This form provides major pieces of information about the deal, its participants, and the transferred item.
You are required to complete a bill of sale if you are buying or selling a boat, and if you are a part of the agreement between private business and the North Carolina Department of Transportation involving personal property. Otherwise, the form is optional, but you may prefer to negotiate and fill out this document to record essential information about the sale. The buyer has written evidence of legal purchase, while the seller can demonstrate the bill of sale to be free from any responsibility for the property and its use.
North Carolina Bills of Sale are usually divided into several categories:
These documents should be completed in two original copies for each party of the transfer.
Does a Bill of Sale Need to Be Notarized in North Carolina?
Generally, a Bill of Sale in North Carolina does not have to be notarized, unless you are selling or buying a vessel - in this case, a notary public witnesses the deal and signs the form adding a notary seal. Also, a Bill of Sale - Materials requires notarization because one of the parties to this deal is the North Carolina Department of Transportation. Notarization gives your document greater integrity, that is why many counterparts choose to have a notary seal on their bills of sale. It is a good idea to add an extra layer of protection to your document.