What Is a Power of Attorney?
A Power of Attorney Form - also referred to as a POA - is a legal document used for electing an individual to act on another party's behalf in business or legal matters. This agreement is made between two parties: the Principal and the Agent. The POA is needed when the Principal is unable to make decisions on their own for any reason.
By signing the agreement, the Principal allows the Agent to legally represent their interests. The Principal usually states what powers they want their Agent to have. Sometimes the Principal also appoints a secondary Agent in case their main Agent does not want or cannot perform their duties. The POA is not a bilateral contract, it is more like a unilateral description of what authority is permitted to the Agent by the Principal.
Types of Powers of Attorney:
Springing Power of Attorney.
There is no federal law concerning these forms, however, an existing model Uniform POA is applicable for most of the states either fully or partially. Being subject to the laws of individual states, POAs vary from state to state, thus it is better to consult your state law before filling out your own Form.
| | | | | |
| --- | --- | --- | --- | --- |
| | Hawaii | Massachusetts | | South Dakota |
| Alaska | Idaho | Michigan | | |
| Arizona | | Minnesota | | Texas |
| Arkansas | | | North Dakota | Utah |
| California | | Missouri | Ohio | Vermont |
| | | Montana | | Virginia |
| Connecticut | | Nebraska | Oregon | |
| Delaware | Louisiana | Nevada | Pennsylvania | West Virginia |
| Florida | Maine | New Hampshire | Rhode Island | Wisconsin |
| Georgia | | | | Wyoming |
Difference Between Power of Attorney and Advance Directive
A Power of Attorney is commonly confused with an Advance Directive (or Advance Healthcare Directive). The concepts are similar with both forms allowing to elect a representative to act on another person's behalf and both stating the specific circumstances under which the representative will act. There is a difference, however: the POA is more commonly used for financial decisions while the Advance Directive allows the representative to make healthcare decisions.
How to Use a Power of Attorney?
A POA is used anytime a person wants someone to make financial decisions for them. This agreement also comes in handy in case of physical or mental incapacity.
The document must include the identifying information of both of the parties along with a certification by no less than two witnesses. Being a serious legal agreement, the POA includes detailed information on the exact types of authority will the appointed Agent get. The Principal also decides upon when and why the document goes into effect and its end date.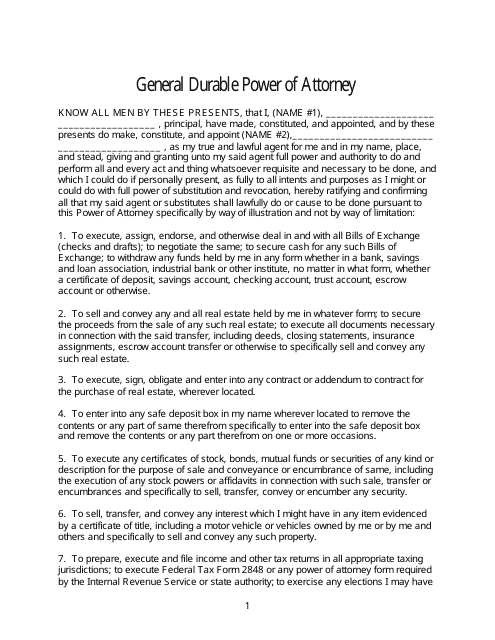 PDF
This document allows someone to make financial and legal decisions on your behalf if you become incapacitated.
The most important thing to decide on is the Agent. Since the agent will manage important financial issues, they have to be a trustworthy person. Normally, people choose close relatives or good friends to act as their Agents. If you choose your spouse as your Agent the spouse's power will automatically terminate in case of divorce.
After filling out the form, the Power of Attorney has to be printed out, signed and notarized.