This version of the form is not currently in use and is provided for reference only. Download this version of Form DPS-3-C for the current year.
Form DPS-3-C Sale or Transfer of All Firearms - Connecticut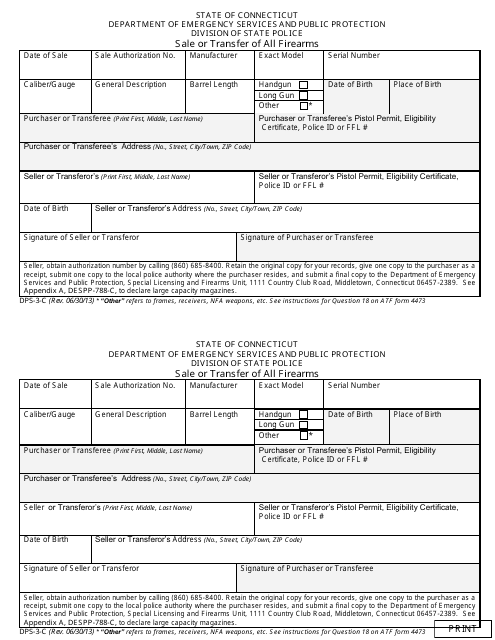 Fill PDF Online
Fill out online for free
without registration or credit card
Connecticut Firearm Bill of Sale (Form DPS-3-C)
Form DPS-3-C, Sale or Transfer of All Firearms is a written document that records the legal transfer of any firearm (rifles, pistols, or other similar assault weapons that fall under the category of legal handguns) between two parties, a seller and a buyer. In accordance with Connecticut firearm laws and regulations, this legal instrument acts as proof that a purchase took place. It contains personal information of both parties, establishes the history of the item, and describes its current condition. Since selling a gun in Connecticut requires the seller and the buyer to express mutual consent to the purchase, drafting a proper bill of sale is a good idea not just for the recordkeeping. You also can avoid any possible questions in the future, and protect yourself from possible disagreements or disputes.
The form - also known as the Connecticut Firearm Bill of Sale - was issued by the Connecticut Department of Emergency Services and Public Protection . The latest version of the form was released on June 30, 2013 , with all previous editions obsolete. You can download a fillable version of Form DPS-3-C through the link below.
Does a Firearm Bill of Sale Have to Be Notarized in Connecticut?
Form DPS-3-C is a legal state-released form that does not have to be notarized in order to make it official.
CT DPS-3-C Related Forms
There are several forms related to the Firearm Bill of Sale. They provide the license to carry weapons, educate individuals on the renewal of pistol permits, and allow the registration of ammunition and large-capacity magazines.
Download Form DPS-3-C Sale or Transfer of All Firearms - Connecticut