DD Form 2760 Qualification to Possess Firearms or Ammunition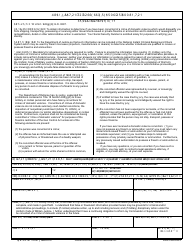 DD Form 2760, Qualification to Possess Firearms or Ammunition
DD Form 2760, Qualification to Possess Firearms or Ammunition is a form issued by the U.S. Department of Defense for purposes of collecting information necessary to determine if a servicemember had been convicted of domestic violence or other crime that would disqualify them from possessing, transporting, shipping, or receiving both Government-issued and private firearms and ammunition. The DD 2760 is also used to determine if a reassignment, reclassification, or other administrative action is warranted towards the servicemember filing the form.
The form - sometimes incorrectly referred to as the DA Form 2760 - was last revised in December 2002. A fillable up-to-date DD Form 2760 is available for download and digital filing below or can be found on the Executive Services Directorate website.
The Gun Control Act of 1968
The DD 2760 is sometimes called the "Lautenberg Act DD Form 2760". The form received the name due to being connected to the Domestic Violence Amendment (or the "Lautenberg Amendment") to the Gun Control Act of 1968.
According to this law, no one convicted of a misdemeanor of domestic violence is allowed to receive, possess, ship, or transport any ammunition or firearms. The Act also determines the selling or disposition of firearms and ammunition to anyone known or reasonably believed to have been convicted of domestic violence to be a felony.
18 U.S.C. 922(g)(9); E.O. 9397.
To obtain information to determine if you have been convicted of a crime of domestic violence which would disqualify you
from shipping, transporting, possessing or receiving either Government-issued or private firearms or ammunition and to determine if reassignment,
reclassification, detail or other administrative action is warranted. Your Social Security Number is solicited solely for purposes of verifying your
identity.
To the Department of Justice so that such information can be included in the National Instant Criminal Background Check
System which may be used by firearm licensees (importers, manufacturers or dealers) to determine whether individuals are qualified to receive or
possess firearms and ammunition.
Mandatory for all personnel who are required to certify. Failure to provide the information may result in (1) (military only) the
imposition of criminal or administrative penalties for failing to obey a lawful order, and (2) (civilian only) the imposition of administrative penalties, to
include removal from Federal service. However, neither your answers nor information or evidence gained by reason of your answers can be used
against you in any criminal prosecution for a violation of Title 18, United States Code, Section 922(g)(9), including (military only) prosecutions under
the Uniform Code of Military Justice, based on a violation of Section 922(g)(9), for conduct which occurred prior to the completion of this form.
The answers you furnish and any information resulting therefrom, however, may be used against you in a criminal or administrative proceedings if
you knowingly and willfully provide false statements or information.
An amendment to the Gun Control Act of 1968 (18 U.S.C.
(c) a person who was cohabiting with or has cohabited with the
922) makes it a felony for anyone who has been convicted of
victim as a spouse, parent, or guardian, or
a misdemeanor crime of domestic violence to ship, transport,
(d) a person who was similarly situated to a spouse, parent, or
possess, or receive firearms or ammunition. It is also a felony for
guardian of the victim;
any person to sell or otherwise dispose of a firearm to any person
so convicted.
(4) the convicted offender was represented by counsel, or knowingly
and intelligently waived the right to counsel;
The Department of Defense has, by policy, expanded the
prohibitions contained in Title 18 Section 922(g)(9) to those
(5) if entitled to have the case tried by jury, the case was actually tried
military or civilian personnel who have felony convictions for
by jury or the person knowingly and intelligently waived the right to
crimes of domestic violence. Convictions of crimes of domestic
have the case tried by jury;
violence do not include summary court-martial convictions, the
imposition of nonjudicial punishment (Article 15, UCMJ), or
(6) the conviction has not been expunged or set aside, or the convicted
deferred prosecutions (or similar alternative dispositions) in civilian
offender has not been pardoned for the offense or had civil rights
courts. Furthermore, a person shall not be considered as having
restored, unless the pardon, expungement, or restoration of civil
committed a "crime of domestic violence" for purposes of the
rights provides that the person may not ship, transport, possess or
firearms restriction of the Gun Control Act unless all of the
receive firearms.
following elements are present:
If you have ever received a domestic violence conviction: (1) you
(1) the person was convicted of a crime;
may not possess any firearm or ammunition; and (2) you must return any
Government-issued firearm or ammunition to your commander or
(2) the offense has as its factual basis the use or attempted use
immediate supervisor; and (3) you must take steps to relinquish
of physical force, or threatened use of a deadly weapon;
possession of any privately owned firearms or ammunition. Furthermore,
any previously issued authorization to possess a firearm or ammunition is
(3) the convicted offender was at the time of the offense:
revoked.
(a) a current or former spouse, parent or guardian of the
If you have any questions, or you are uncertain if you have such a
victim,
conviction, you may wish to contact a legal assistance attorney, if
(b) a person with whom the victim shared a child in common,
eligible, or a private attorney, at your own expense.
I hereby certify that, to the best of my information and belief, all of the information provided by me is true, correct,
complete, and made in good faith. I understand that false or fraudulent information provided herein may be grounds for criminal and/or
administrative proceedings, to include (if civilian) adverse action, up to and including removal, and (if military) disciplinary action under the
Uniform Code of Military Justice. I further understand that I have a continuing obligation to inform my Commander or Supervisor should I
be convicted of a crime of domestic violence in the future.
PREVIOUS EDITION IS OBSOLETE.
Adobe Professional X
Download DD Form 2760 Qualification to Possess Firearms or Ammunition
DD Form 2760 Instructions
The DD 2760 Form filing process is simple with all lines of the form being mostly self-explanatory.
The form includes two sections in total: Section I contains instructions and a list of conditions under which a person is regarded as having committed a crime of domestic violence.
Section 2 is called the Qualification Inquiry.
The first block requires the information on whether you have ever been convicted of domestic violence as described in the previous section and requires entering your initials and the date of filing in the corresponding box. Get legal assistance or contact a private attorney if you are not sure that you have been convicted in connection to domestic violence.
If your answer to the first question was YES, you must continue to block two and provide details on the conviction. The required information includes the name of the court and its jurisdiction, the docket or case number, the statute, the charge, and the date of conviction. If the answer was NO, this part must be left blank.
The third part of Section II requires personal identifying information. This includes your name, rank, SSN, etc. This data is necessary to verify your identity.
The DD Form 2760 should be verified with your signature and submitted to a commander or immediate supervisor within ten days after receiving the form.