DA Form 31 Request and Authority for Leave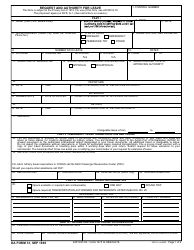 What Is DA Form 31?
DA Form 31, Request and Authority for Leave is a United States Army form that is necessary to request permission for temporary military leave. This form can be used to request an emergency leave, a vacation, travel, or an extended pass.
Despite being issued by the U.S. Department of the Army, the form is often incorrectly called the DD Form 31.
The latest edition of the form was issued in September 1993 and was recently modified to include digital signatures that completely eliminate the need to print the form out. An up-to-date fillable DA 31 is available for download and digital filing below.
1. CONTROL NUMBER
REQUEST AND AUTHORITY FOR LEAVE
This form is subject to the Privacy Act of 1974. For use of this form, see AR 600-8-10.
The proponent agency is DCS, G-1. (See instructions on reverse.)
PART I
4. RANK
2. NAME (Last, First, Middle Initial)
3.
5. DATE
6. LEAVE ADDRESS (Street, City, State, ZIP Code and
7. TYPE OF LEAVE
8. ORGN, STATION, AND PHONE NO.
Phone No.)
ORDINARY
EMERGENCY
PERMISSIVE TDY
OTHER
9.
NUMBER DAYS LEAVE
10.
DATES
a. ACCRUED
b. REQUESTED
c. ADVANCED
d. EXCESS
a. FROM
b. TO
NA
NA
11. SIGNATURE OF REQUESTOR
12. SUPERVISOR RECOMMENDATION/SIGNATURE
13. SIGNATURE AND TITLE OF
APPROVING AUTHORITY
APPROVAL
DISAPPROVAL
14.
DEPARTURE
a. DATE
b. TIME
c. NAME/TITLE/SIGNATURE OF DEPARTURE AUTHORITY
15.
EXTENSION
a. NUMBER DAYS
b. DATE APPROVED
c. NAME/TITLE/SIGNATURE OF APPROVAL AUTHORITY
16.
RETURN
a. DATE
b. TIME
c. NAME/TITLE/SIGNATURE OF RETURN AUTHORITY
17. REMARKS
Chargeable leave is from
to
PART II - EMERGENCY LEAVE TRANSPORTATION AND TRAVEL
18. You are authorized to proceed on official travel in connection with emergency leave and upon completion of your leave and travel will
return to home station (or location) designated by military orders. You are directed to report to the Aerial Port of Embarkation (APOE) for
onward movement to the authorized international airport designated in your travel documents. All additional travel is chargeable to leave.
Do not depart the installation without reservations or tickets for authorized space required transportation. File a no-pay travel voucher with a
copy of your travel documents or boarding pass within 5 working days after your return. Submit request for leave extension to your
commander. The American Red Cross can assist you in notifying your commander of your request for extension of leave.
19. INSTRUCTIONS FOR SCHEDULING RETURN TRANSPORTATION:
For return military travel reservations in CONUS call the MAC Passenger Reservation Center (PRC):
Should you require other assistance call PAP:
20. DEPARTED UNIT
21. ARRIVED APOD
22. ARRIVED APOE (return only)
23. ARRIVED HOME UNIT
PART III - DEPENDENT TRAVEL AUTHORIZATION
24.
25.
(Space available or required cash reimbursable)
ONE WAY
ROUND TRIP
(Space required) TRANSPORTATION AUTHORIZED FOR DEPENDENTS LISTED IN BLOCK NO. 25
DEPENDENT INFORMATION
a. DEPENDENTS (Last name, First, MI)
b. RELATIONSHIP
c. DATES OF BIRTH (Children)
d. PASSPORT NUMBER
PART IV - AUTHENTICATION FOR TRAVEL AUTHORIZATION
26. DESIGNATION AND LOCATION OF HEADQUARTERS
27. ACCOUNTING CITATION
28. DATE ISSUED
29. TRAVEL ORDER NUMBER
30. ORDER AUTHORIZING OFFICIAL (Title and signature) OR AUTHENTICATION
EDITION OF 1 AUG 1975 IS OBSOLETE
DA FORM 31, SEP 1993
Page 1 of 2
APD LC v6.00ES
How to Fill Out the DA Form 31?
Start with downloading a fillable DA form 31. Your application will be rejected if any of the blocks are not completely filled out or provide false or inaccurate data.
The first four Boxes are simple and include your personal information: your name, social security number, and rank. Enter the date of filing the form Box 5.
The sixth Box should include the address of your destination. Check the appropriate type of leave in Box 7. Enter your stationing information in Box 8. Specify the length of your leave in Boxes 9 and 10.
Boxes 11 through 13 are for your personal signature and for the signature of your supervisor with the authority to approve your request.
Boxes 14 through 16 are for documenting any extensions to your leave as well as the dates and times of your departure and arrival. Box 16 will require precise information and must be filed exactly upon arriving at your destination.
Section II is filled only if requesting emergency leave.
The third section is for providing information about any dependents that will travel with you. If this is applicable, you will need to insert the full name of the person, your relationship to that dependent, their date of birth and passport number.
The DA Form 31 with digital signature must be then be forwarded or printed out and given to your superiors for approval. Your army leave form must always be with you when traveling. Notify your commander immediately if your leave destination changes during your travel. Report to a military medical facility if you require medical treatment while on leave.
DA 31 Form FAQ
What regulation covers DA Form 31?
The DA 31 is covered by Army Regulation 600–8–10 - Leaves and Passes issued on the 4th of August, 2011.
When filling out DA Form 31 where do you find Line 9 a?
Line 9a is located directly below Box 9. List the overall number of days leave you have in this line.
What do I put in the Control Number Box for DA Form 31?
Leave the Control Number Box blank when filing. A control number is assigned by the S1 after the form is approved by your team leader and platoon sergeant.
How to edit DA Form 31?
The form is fully editable: open the form within a new browser tab or on your desktop through Adobe Acrobat Reader.