DA Form 3437 Certificate of Medical Examination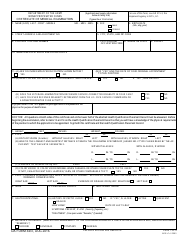 What Is DA Form 3437?
DA Form 3437, Department of the Army Nonappropriated Funds - Certificate of Medical Examination is an official form used to record the results of a pre-employment physical examination of NAF employees. The certificate can also be used during periodic job-related physical tests. An up-to-date DA Form 3437 fillable version is available for filing and download below or can be found through the Army Publishing Directorate website.
The DA 3437 is necessary for the position that may require the employee to:
Operate motor vehicles;
Have direct physical contact with people (especially when applying for childcare-related positions);
Work underground, in dangerous conditions, or around power-driven machinery;
Undergo exertion, dangerous duty, or excessive physical demands;
Be in contact with food that will be consumed by others.
The most recent version of the form - sometimes incorrectly referred to as the DD Form 3437 – was released by the Dept. of the Army in August 2016 with the previous editions obsolete.
DEPARTMENT OF THE ARMY
For use of this form, see AR 215-3; the
(Applicant must supply information
below to heavy line)
NONAPPROPRIATED FUNDS
proponent agency is DCS, G1.
CERTIFICATE OF MEDICAL EXAMINATION
(Typewrite or Print in Ink)
1. NAME (CAPS) LAST - FIRST - MIDDLE
MR. - MISS - MRS.
2. SEX
3. BIRTH DATE
(Mo., day, year)
MALE
FEMALE
4. STREET ADDRESS AND APARTMENT NO.
5. CITY, STATE, AND ZIP CODE
6. POSITION TITLE AND NUMBER
7. PAY PLAN AND
8. GRADE OR LEVEL
9. SALARY
OCCUPATION CODE
10. NAME AND LOCATION OF EMPLOYING OFFICE
11. (A) ARE YOU NOW EMPLOYED IN POSITION SHOWN IN ITEM 7
(B) IF "YES" GIVE THE DATE OF YOUR ORIGINAL APPOINTMENT
TO THIS POSITION:
YES
NO
13. (A) HAVE YOU ANY PHYSICAL DEFECT OR DISABILITY WHATSOEVER?
YES
NO
IF "YES", GIVE DETAILS.
(B) DOES THE VETERANS ADMINISTRATION RECOGNIZE SERVICE-CONNECTED DISABILITY IN YOUR CASE?
YES
NO
(C) HAVE YOU EVER RECEIVED DISABILITY RETIREMENT FROM THE U.S. CIVIL SERVICE COMMISSION OR
YES
NO
A NONAPPROPRIATED FUND ACTIVITY?
Sign your name in INK as it appears on your application in the presence of the
physician for purpose of identification.
DOCTOR: All questions on both sides of this certificate and on the lower half of the attached Health Qualification Placement Record must be answered. Before
beginning the examination, refer to items 13 and 14 on the Health Qualification Placement Record so that you will have a knowledge of the physical requirements
of the position to which the applicant is to be appointed. Sign both this certificate and the Health Qualification Placement Record
1. HEIGHT:
FEET
INCHES
WEIGHT:
POUNDS
20
20
20
20
2. EYES:
(A) DISTANT VISION (Snellen):
WITHOUT GLASSES: RIGHT
LEFT
WITH GLASSES, IF WORN: RIGHT
LEFT
(B) WHAT IS THE LONGEST AND SHORTEST DISTANCE AT WHICH THE FOLLOWING SPECIMEN OF JAEGER NO. 2 TYPE CAN BE READ BY THE AP-
PLICANT? TEST EACH EYE SEPARATELY.
WITHOUT GLASSES:
WITH GLASSES, IF WORN:
R.
IN. TO
IN.
R.
IN. TO
IN.
L.
IN. TO
IN.
L.
IN. TO
IN.
(C) EVIDENCE OF DISEASE OR INJURY:
RIGHT
LEFT
(D) COLOR VISION: IS COLOR VISION NORMAL WHEN ISHIHARA OR OTHER COLOR PLATE TEST IS USED?
YES
NO
IF NOT, CAN APPLICANT PASS LANTERN, YARN, OR OTHER COMPARABLE TEST?
YES
NO
3. EARS: (CONSIDER DENOMINATORS INDICATED HERE AS NORMAL. RECORD AS NUMERATORS THE GREATEST DISTANCE HEARD)
ORDINARY CONVERSATION:
RIGHT EAR
LEFT EAR
EVIDENCE OF DISEASE OR INJURY: RIGHT EAR
LEFT EAR
20 FT.
20 FT.
4. NOSE
5. PARA NASAL SINUSES
6. MOUTH AND THROAT
7. GASTRO-INTESTINAL
(A) HISTORY OF PEPTIC ULCER:
YES
NO
IF "YES", IS ULCER:
ACTIVE
QUIESCENT
HEALED
HOW LONG?
DATE OF LAST X-RAY
SYMPTOMS PRESENT, IF ANY (Severity, frequency, etc.):
TREATMENT (Use space under "Remarks," if needed):
8. METABOLIC DISORDERS: (INDICATE ANY ABNORMALITY OF THE FOLLOWING GLANDS BY A CHECK IN THE APPROPRIATE BOX, AND EXPLAIN UNDER
"REMARKS.")
THYROID
PANCREAS
PITUITARY
OVARIAN
DA FORM 3437, AUG 2016
PREVIOUS EDITONS ARE OBSOLETE.
PAGE 1 OF 6
APD LC v1.00ES
How to Fill Out DA Form 3437?
The medical certificate, in general, is a written statement from a medical worker which describes results of a medical examination. It can be used as a sick note or as evidence of a certain health condition.
Procedural guidelines and additional information can be found in the AR 215-3, Nonappropriated Funds Instrumentalities Personnel Policy, released in September 2015. Specific DA Form 3437 instructions are as follows:
Personnel working in child care-related positions must undergo annual medical assessments that include a TB skin test, a chest X-ray, be vaccinated for measles, mumps, rubella, diphtheria, tetanus, and polio with all results recorded on their DA 3437
Along with the original certificate, the civil employee's personnel folder must contain the following forms:

A job description;
A resume and the application for NAF employment;
DA Form 3433-1;
DA Form 3434;
DA Form 3473;
DA Form 3666;
DA Form 3440 (if applicable);
DA Form 7427;

A DA Form 3437 is authorized for filing in the Civilian employee medical records folder. The Civilian employee medical records folder - or CEMR, for short - may be maintained either in the terminal digit filing system DA Form 3444-series or the Standard Form 66D during the entire course of working with the Department of the Army.