Form VTR-346 Texas Motor Vehicle Transfer Notification - Texas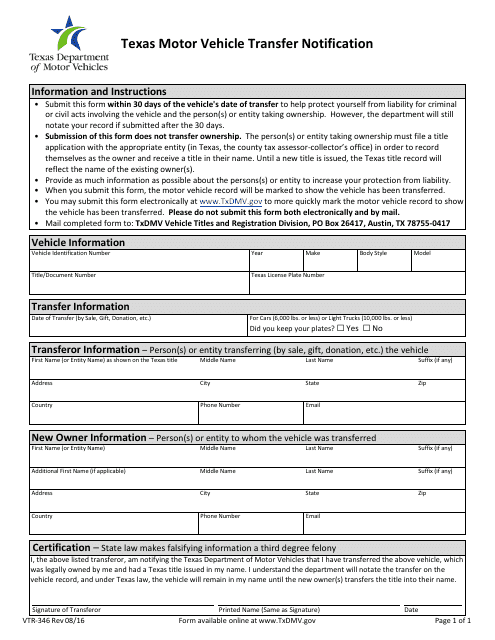 What Is Form VTR-346?
Form VTR-346, Texas Motor Vehicle Transfer Notification, is a legal document you need to complete to inform the authorities you have sold or transferred ownership of a vehicle. A legal notice is necessary because it demonstrates the mutual agreement of parties to enter into a transaction, describes the transferred vehicle, and protects a seller and purchaser in case any disputes or disagreements arise after the sale takes place. Additionally, when you file this document, you relieve yourself from liability for civil or criminal acts that involve the vehicle.
Alternate Name:
Texas Vehicle Transfer Form
This form was released by the Texas Department of Motor Vehicles. The latest version of the document was issued on August 1, 2016, with all previous editions obsolete. Download a fillable VTR-346 Form through the link below.
How to Submit Form VTR-346?
Provide the following information when filling out a Texas Vehicle Transfer Form:
Describe the vehicle. Write down the vehicle identification number, year, make, body style, model, certificate of title number, and license plate number;
Provide the transfer details. Indicate the date of transfer whether it was a sale, gift, or donation. If you have transferred a car (6,000 lbs. or less) or a light truck (10,000 lbs. or less), state if you kept your plates;
Record your personal details - the transferor information. Write down your full name, mailing address, phone number, and email address;
Submit information about the new owner - either the individual or entity to whom the vehicle was transferred. State the full name, mailing address, phone number, and email address of the party that takes ownership;
Certify the statements in the form are true and accurate to the best of your knowledge. Confirm you have owned the described motor vehicle with a Texas title issued in your name. Sign and date the document.
The seller is required to submit Form VTR-346 within 30 days of the vehicle's date of transfer. You may do it electronically on the Texas DMV website or by mail - send the form to the TxDMV Vehicle Titles and Registration Division, PO Box 26417, Austin, TX 78755-0417.
The Texas VTR-346 Form was issued for informational purposes only and will not constitute a release of any interest in the motor vehicle - it will not transfer ownership. The person or entity taking ownership has to file an application for a new title with the county tax assessor-collector's office to become a legal owner of the vehicle.
Download Form VTR-346 Texas Motor Vehicle Transfer Notification - Texas