SBA Form 1010C U.S. Small Business Administration 8(A) Business Plan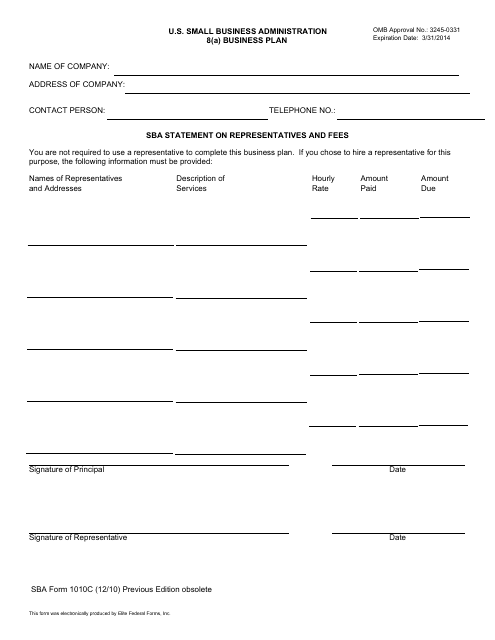 Fill PDF Online
Fill out online for free
without registration or credit card
U.S. Small Business Administration 8(a) Business Plan
SBA Form 1010C, U.S. Small Business Administration 8(a) Business Plan, issued by Small Business Administration (SBA) is a comprehensive business plan that has to be written by each certified SBA 8(a) Participant. The SBA released the latest version of the form on December 1, 2010. According to the SBA requirements, the 8(a) business plan should be submitted within 30 days starting from the day of the program submission. You can download a PDF of SBA Form 1010C by following this link.
SBA 1010C includes 52 questions that should be answered by the applicant and contain information about the product or service with its detailed description and plans for future development, applicant's designation of its industry classification, market analysis, targets, and objectives of the business development for the period of next two years. It consists of 11 sections describing key elements of the business plan.
SBA Form 1010C Related Forms
In addition to SBA 1010C, there are other related documents available to download. By submitting these forms, entrepreneurs and companies can request assistance in access to the capital, advocacy, government contracting, entrepreneurial development, etc.
Download SBA Form 1010C U.S. Small Business Administration 8(A) Business Plan