Free Nebraska Bill of Sale Forms and Templates
Do You Need a Bill of Sale in Nebraska?
A Nebraska Bill of Sale is a legal document signed by two individuals or an individual and an entity to record the legal sale of personal property. It proves the sale and purchase of the item, determines the new owner of the property, and releases the seller from any liability.
Nebraska laws require bills of sale if you sell or buy a car or a boat; otherwise, the form is not mandatory. Still, you are allowed to create additional documentation if you want to protect your interests in the future, whether you are the seller or the buyer. If you wish, you can modify the terms and conditions of the document to suit the particulars of your deal.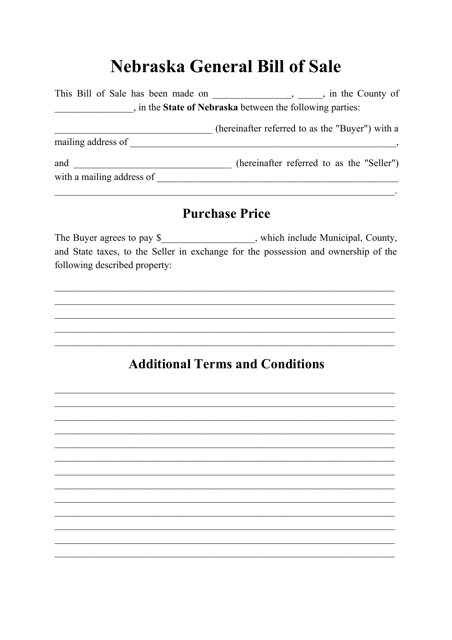 PDF
Download this legally binding agreement to document the transfer of different kinds of items from the seller or the transferor, to the buyer or the transferee. This document contains the necessary details pertinent to the deal.
Nebraska Generic Bill of Sale is the most common certificate that shows the sale and purchase of personal items between parties took place.
Nebraska Vehicle Bill of Sale is the official form issued by the Nebraska Department of Motor Vehicles and used to describe in full detail the transfer of any vehicle (including boats) from the seller to the buyer.
Nebraska Gun Bill of Sale is a document that establishes a basic agreement for the sale of a gun legally sold, purchased, or traded.
Nebraska Bill of Sale Requirements
There are no official government-issued Nebraska Bills of Sale for any items except for various vehicles; however, you may use a basic template if it follows state requirements. To write a Bill of Sale in Nebraska, you need to:
Record personal information of the seller and the purchaser. Identify both parties by their full names, state their mailing addresses, and identifying information (generally, it is enough to mention driver's license numbers);
Fully describe the item in question. Provide a detailed description of the property (its size, color, serial or identification number, model, make, and possible defects and flaws). To make the identification of the property easier and to avoid potential disagreements in the future, include as many distinctive characteristics of the item in the document as possible;
State the date and location of the sale;
Write down the sum of money paid and the negotiated method of payment;
Sign the documents. The parties or their legal representatives are allowed to sign the papers making them legally binding.
When both parties have signed the documents, make several copies of the document. You can keep them for your records or file them for registration of the property if it is required. The buyer who becomes the new owner should have the original document, while the seller has a copy.