Free Wyoming Bill of Sale Forms and Templates
What Is a Wyoming Bill of Sale?
The Wyoming Bill of Sale is a document that proves the transfer of ownership of the personal property from a seller to a buyer. If this transfer is the result of a sale or a trade, then the buyer gets the property in exchange for money or other items of value. However, it can also be used to register a transfer of ownership made as a gift or donation. A Bill of Sale in Wyoming may be required when registering the items under the buyer's name. The State of Wyoming does not issue official bills of sale to be used statewide.
Wyoming Bills of Sale may be used to transfer personal property only, and they cannot be used when selling real estate. The assets transferred may be electronic items, furniture, animals, motor vehicles, boats, firearms. However, it is worth noting that there are specific bills of sale for selling motor vehicles, boats, and firearms.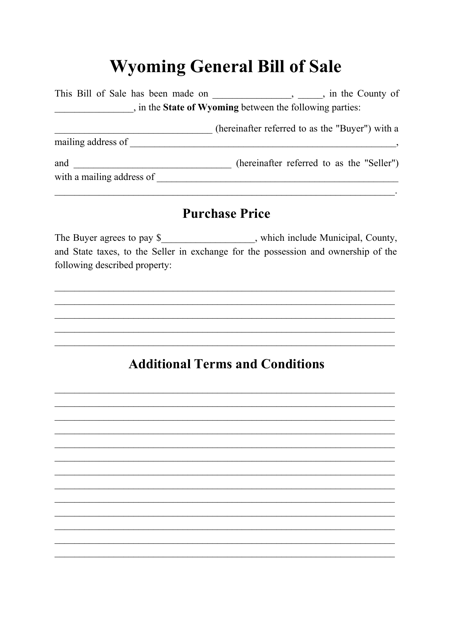 PDF
The State of Wyoming does not offer an official generic form. Download this general Bill of Sale form to record the transfer of any kind of personal property from one party (the seller) to another (the buyer). This document provides essential information about the deal, its participants, and the transferred item.
There are four types of bills of sale in the state:
The form itself is a legal agreement that legally binds the seller and the buyer. This means that the document protects both of them in case of any future dispute about the property that was transferred.
Does a Bill of Sale Need to be Notarized in Wyoming?
There are different cases when this document needs to be notarized in Wyoming. Some counties require that the document be notarized by a Notary Public, the County Clerk, or the County Treasurer if it is for the sale of a motor vehicle or a boat.
The Generic and Firearm forms do not need to be notarized, because they are used for your personal records only.