Form REG135 Vehicle / Boat Bill of Sale - California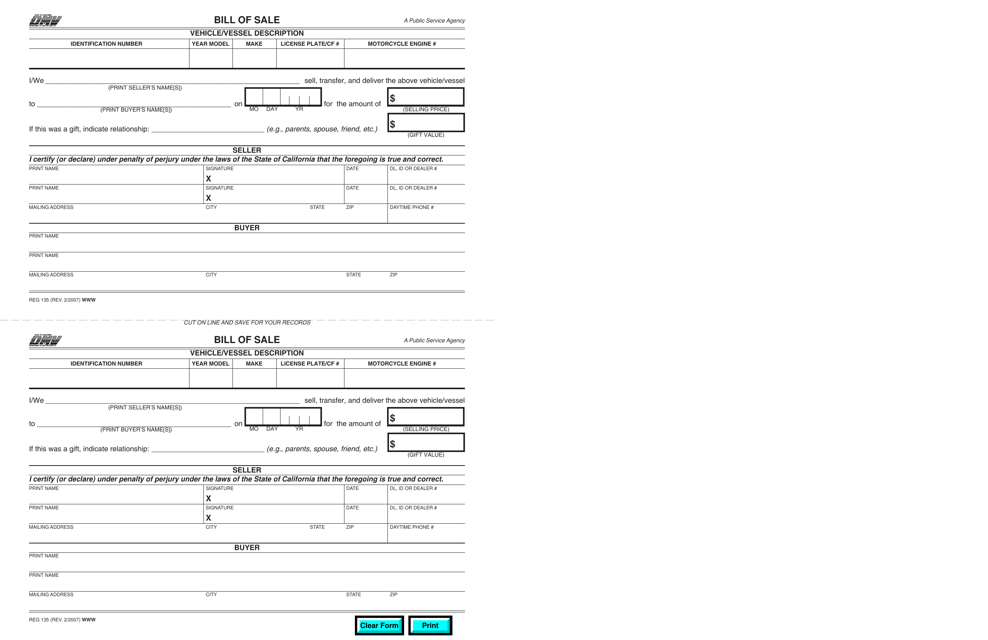 Fill PDF Online
Fill out online for free
without registration or credit card
California Motor Vehicle Bill of Sale
Form REG 135, Bill of Sale is a form you fill out to substantiate the transfer of a motor vehicle or watercraft from one party to another. This state-approved document helps to record all relevant transaction details and serves as a solid proof of sale and purchase. The form was released by the California Department of Motor Vehicles (DMV) and was last revised on February 1, 2007 . Download a fillable Form REG 135 through the link below.
Alternate Names:
California Vehicle Bill of Sale;
California Boat Bill of Sale.
If you sell a vehicle in California, you are sometimes required to report odometer reading. This information is usually indicated in the title. If the title does not provide enough space to report the odometer reading, you must fill out Form REG 262, Vehicle/Vessel Transfer and Reassignment. It is a multipurpose document that serves as a power of attorney, Bill of Sale, and odometer disclosure. This document is not available online since it must be printed on security paper to comply with federal odometer disclosure regulations. You can obtain Form REG 262 at your local California DMV office or by calling at 1-800-777-0133.
Do You Need a Bill of Sale to Register a Car in California?
Generally, the state of California does not require a Bill of Sale for car registration. However, if you buy a car or boat not directly from the person whose name is indicated on the Certificate of Title, you will need Forms REG 135 or REG 262 from each in-between buyer. It is a good idea to fill out a Bill of Sale when you buy a car anyway since it contains information you will need when registering your newly purchased car or watercraft.
How to Write a Bill of Sale for a Car in California?
When filling out the California Vehicle Bill of Sale, you must provide the following information:
Vehicle description, including identification number, year, make, license plate number, and motorcycle engine number;
Names and addresses of all sellers and buyers;
Date of sale and selling price;
If the car is a gift, it should be indicated on the Bill of Sale. The relationship and the value of the gift should be indicated on the document as well;
Signature of the seller or sellers.
Form REG 135 consists of two copies. One is intended for the seller, another is for the buyer. Make sure you have filled out both of them.
Does a Vehicle Bill of Sale Have to Be Notarized in California?
The form is an official DMV document and does not need to be notarized by a California notary in order to be valid and legal.
REG 135 Related Forms
Form REG 135 has several county-specific related forms you are required to submit when selling your vehicle, aircraft, or watercraft:
Download Form REG135 Vehicle / Boat Bill of Sale - California