Coaching Contract Template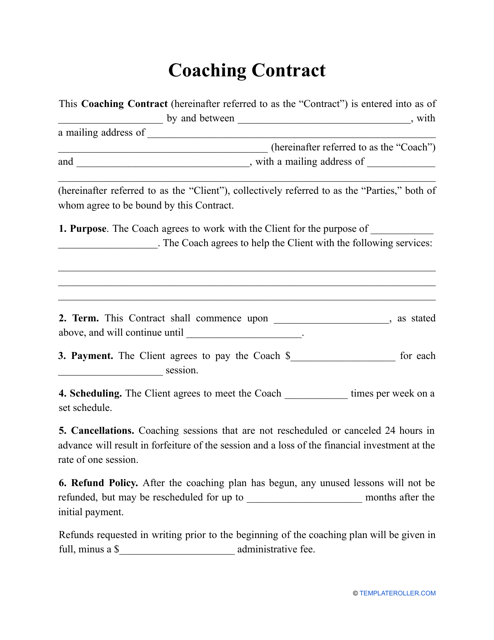 Fill PDF Online
Fill out online for free
without registration or credit card
What Is a Coaching Contract?
A Coaching Contract is a legal agreement signed by a coaching professional and a client to record the details of their collaboration and coaching relationship, their initial goals, and a plan to achieve them. Since making sure a coaching business and their customer are legally protected, it is essential to the mutual success of the parties to have a contract in place so that they can focus on the job in front of them.
Where Can I Have a Coaching Contract Written?
When you sign a Coaching Contract, you make sure both parties understand their obligations to receive legal protection and know their role to play. As in the case of a Martial Arts Contract, if any of the parties are unhappy, a contract for coaching services helps keep professional objectivity in sight.
There is no need to hire a lawyer specializing in coaching agreements to help you draw up a contract - you can draft it yourself. Compose a personalized document using our online form builder or simply download a Coaching Contract template below.
How to Create a Coaching Contract?
A simple Coaching Agreement contains the following information:
Name and contact information of the parties.
Purpose of the agreement. Describe the training program the coach will provide to the student. Set the main goals of your collaboration, agree on a schedule, and define your boundaries.
Payment details. List all the payments, state what they cover, and when they are due.
Refund policy. If a student is not happy with the program, there is a possibility for them to get their money back - write down the clear terms regarding refunds to protect yourself against giving refunds for coaching services already rendered. A 30-day refund period is the most common.
Rescheduling policy. Set expectations about cancellations and make sure you know how to contact the other party to reschedule appointments.
Client's responsibilities. The coach must state that the program is developed only for educational purposes and the client bears sole responsibility for the progress and results from the coaching experience. The relationship between the coach and the client is quite similar to the relationship between a personal trainer and a student who has entered into a Personal Training Contract: the student has to be open to suggestions and feedback and must fully engage with the coaching process.
Termination clause. Describe in full detail the way out in the event you need to part ways with the other party.
Signatures of the parties. Once you sign the papers, the Coaching Agreement is legally binding, but you have every right to revisit it with the other party and refine it to keep up with possible changes depending on the circumstances.
---
Not the document you were looking for? Check out these related templates:
Download Coaching Contract Template