Personal Training Contract Template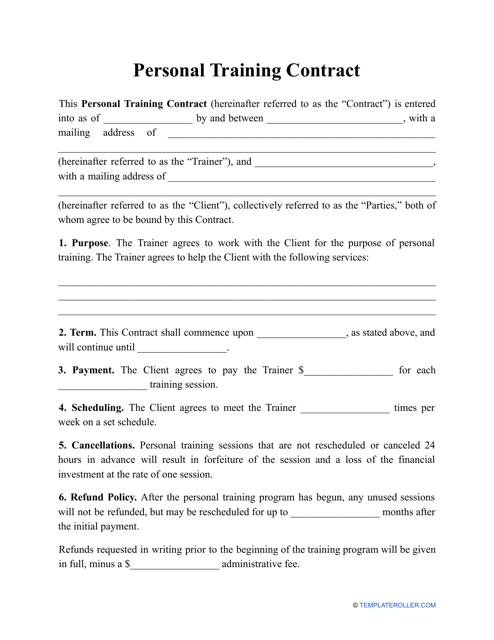 Fill PDF Online
Fill out online for free
without registration or credit card
What Is a Personal Training Contract?
A Personal Training Contract is an agreement between a personal trainer and a client regarding fitness and exercise services the former will provide. It records the training sessions policy, their schedule and cost, fitness goals, and other information that defines a trainer-client relationship.
Alternate Name:
Personal Trainer Contract.
If you wish to enter into a locked-in agreement, you may download a Personal Training Contract template below or use our online form builder to create your own personalized document.
How to Write a Contract for Personal Training Services?
Make sure you include the following details in your Personal Trainer Contract:
Full names and contact information of the parties.
Description of services the trainer will provide. State the duration of the personal training sessions and outline the exercise program built around the client's fitness level and experience. List the activities the training sessions will include: aerobics, stretching, weight lifting, cardiovascular training, etc.
Payment details. Traditionally, personal trainers have rates they charge for every training session. Determine the payment method and mention it in this section as well.
Cancellation of training sessions, late arrivals, and no-shows. A contract for personal training will help you avoid misunderstandings with your client if you list all possible causes to cancel or postpone a session. The client is required to notify the trainer of the cancellation or delay 24 hours before the session.
Warranties. State in a specific clause that you cannot guarantee the results of training sessions since there is no way to know if your client will gain muscle mass, lose weight, or attain other particular results.
Signatures of the parties.
How to Cancel a Personal Training Contract?
Do not forget to negotiate the cancellation clause in your Personal Training Agreement. It may happen that you will not be able to attend training sessions for one reason or another and you will need to cancel the agreement. Most trainers allow you to cancel within three days after you sign the papers, and if you want to cancel later, there will not be a refund.
Consider the cancellation clause carefully before you sign the document, and if you are not willing to pay upfront and not have your money returned if you cancel the contract a month later, negotiate separate payments for each training session. That way you will not be charged for a session as long as you properly notify the trainer about missing a session.
How Long Must a Certified Personal Trainer Maintain Financial, Contract, and Tax Records?
To practice with integrity and comply with all state and federal laws, each certified personal trainer has to keep accurate financial, appointment, contract, and tax records (with original receipts) for at least four years. It is also highly recommended to maintain truthful progress notes for each client to monitor their fitness results.
---
Not the form you need? Check out these related contracts:
Download Personal Training Contract Template